Thu, 18 March 2021 at 6:23 pm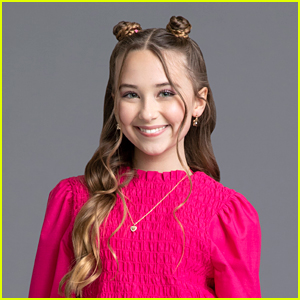 Kensington Tallman is making her presence known in the new Nickelodeon series Drama Club!
The actress plays Bianca in the show, the loud and quirky influencer, who also has a crush on Bench.
Drama Club, if you haven't heard by now, is a mockumentary-style comedy which follows a group of middle schoolers as they shine a light on the inner workings of their school's overlooked drama club.
You may recognize Kensington from her role as Ruby on another Nickelodeon series, Side Hustle. She's also been on episodes of Black Monday and The Good Cop.
JJJ has been getting to know the cast of Drama Club with 10 Fun Facts. Check out Chase Vacnin and Lili Brennan's right here!
Be sure to tune in to Drama Club on Saturday nights at 8:30pm ET/PT on Nickelodeon. Check out Kensington Tallman's fun facts below:
1. I am a vegan! I love animals and am passionate about their wellbeing. My favorite animal is a sloth because they are just so cute!! I have a pet Teddy Bear Hamster named Potato and I really want to get pet chickens.
2. I have lived in 4 different states and 10 homes! I was raised in New York City and my favorite place back home is Central Park. There is always so much to see and experience!
3. I grew up playing the violin and have performed not only on the streets of New York City but also at Carnegie Hall through the School of Strings! I am currently learning how to play the ukulele.
4. My favorite Subject is History! I love learning about different cultures and historical figures. I am part of the National Junior Honor Society at my school and my hope is to go to Yale University. I speak basic Latin, French and I am learning Italian. My dream is to go to Italy and see the Colosseum in Rome.
5. I love aerial dance! I think it's such a beautiful artform. For my birthday this year I am asking for a scarf so I can practice every day.
Click inside for more fun facts!
6. I have a little brother named Zealand. He is adopted! I also have 2 cousins who are adopted along with my grandfather. My family is passionate about adoption.
7. I love doing impressions and accents! My favorite impression to do is Bjork and sometimes on my off days I take an accent class over Zoom.
8. My favorite food is avocado sushi rolls and Vegan mint chocolate chip ice cream from Nada Moo.
9. I love all forms of art!! One of my favorite things to do is crochet. I love making baby blankets for family and friends' new babies.
When I grow up, I want to continue acting and start a production company, along with a charity with my best friend Samantha Smith, who is also an actress. We met doing a Dunkin Donuts commercial and have been best friends ever since.
Like Just Jared Jr. on FB