Thu, 18 March 2021 at 1:44 pm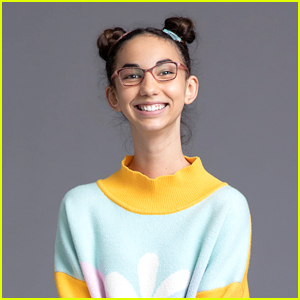 Lili Brennan is one of the rising stars in the new series Drama Club!
The young actress stars as Darcy in the Nickelodeon show, which is a mockumentary-style comedy about a group of middle schoolers in drama club.
In the first episode, the Tookus Middle School Drama Club has a new student director who is excited to take over, change the school's perception of the club, and earn their new principal's support. However, when their choreographer suffers an injury, the kids quickly realize that their only hope to save the situation is to turn to a rival on their school's beloved football team for help.
You may recognize Lili if you have also been watching the Nickelodeon pet competition series Unleashed. She's a part of the Kid Jury!
Drama Club has already premiered on Nick.com, but it will be premiering on Nickelodeon THIS Saturday at 8:30pm ET/PT.
JJJ is getting to know the cast of the new series with 10 Fun Facts. Check out Lili's below!
1. I love the ocean and sail competitively in an optimist sailboat, which is a very small boat for solo sailing. The highest wind speeds I sailed at is over 20 knots! I hope to start sailing FJs (a bigger sailboat for two people) soon!
2. My whole family is scuba certified and I truly love and appreciate the amazing creatures and beauty down below.
3. My favorite animals are actually sharks! They are so magnificent and misunderstood. On my first open ocean scuba dive a shark swam right in front of us! It was amazing! (I was 10!)
4. My love for nature and animals goes deep and I decided to go vegetarian! I never really liked any meats and I feel happy and healthy!
5. Baking is one of my favorite hobbies and I love baking cake, brownies, cookies, cake pops and more!
See more fun facts with Lili Brennan inside…
6. I am learning guitar and love it! I hope to write my own original music someday!
7. I started learning aerial arts when quarantine began. I've had the silks for years, but I decided to start learning actual tricks during quarantine! I enjoy it so much, it's the perfect at home workout!
8. Also over quarantine my mom and I created a garden, I love relaxing, and tending to it. But my favorite thing about it is the fresh vegetables and herbs we get! They taste so good and I love making teas, scrubs and essential oils with them!
9. I have many cats and I LOVE THEM SO MUCH! One of them is a polydactyl meaning she has extra toes! And another meows a TON; I think he wants to be a singer!
10. Lastly, in my free time I love streaming on twitch, whether it's Minecraft, Stardew Valley, or really anything else! I stream under the user Merakii_3 and it's one of my favorite things to do!
Like Just Jared Jr. on FB