Fri, 19 March 2021 at 6:48 pm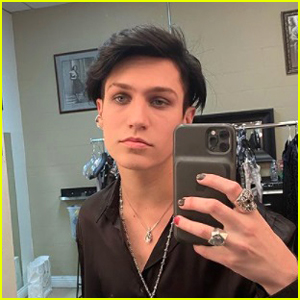 Chase Hudson is opening up about his upcoming debut album!
The 18-year-old TikTok star turned singer, aka LILHUDDY, has been working on a full album with Blink-182 drummer and record producer Travis Barker.
"Me and Travis have been in the studio working on it quite a bit. We have an album coming in the summer, which is going to be very exciting. And I think we're just about like 75% of the way there and about a lock in on it," Chase said on the Rock This with Allison Hagendorf podcast.
"Travis just gets it. Like there's no other drummer. Who are we going to go to?" he added. "And everyone he works with, he does differently than anyone else because he hears what he hears with that song specifically."
As for his album, Chase shared that it is going to be quite different and his first song release, "21st Century Vampire" is not an indication of what the album will sound like.
"Honestly, '21st Century Vampire' was something that was winged. And it's like an introduction for a story. Almost," he told Allison. "It's like starting a video game. It's like, OK, this is your character. Here's a storyline. Like that's kind of how I think '21st Century Vampire' is compared to all of my other music."
"It's going to be a story of every relationship I went through. Put into one. It's cool," Chase said.
"A lot of it's nothing like any other songs. I feel like a lot of it has its own unique meaning and has its own place in the album I have coming this summer. They're all very different. I don't think any two songs on the album sound the same," he recently teased with Radio.com.
If you missed it, be sure to also listen to Chase's second song "The Eulogy of You and Me."
Like Just Jared Jr. on FB