Fri, 19 March 2021 at 4:00 pm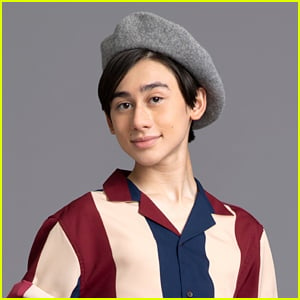 Nathan Janak has been gracing our TV screens for a while now on All That, and now he's killing it on the new series Drama Club!
The almost 16-year-old is perhaps most known from Nickelodeon's All That reboot, and for his Ariana Grande impression and his "Cancelled" segment.
Nathan now stars as Oliver Olivier on Drama Club, who is basically the Sharpay Evans of the Tookus Middle School Drama Club – starring in every musical alongside Mack… until now.
In the first episode, the Tookus Middle School Drama Club has a new student director who is excited to take over, change the school's perception of the club, and earn their new principal's support. However, when their choreographer suffers an injury, the kids quickly realize that their only hope to save the situation is to turn to a rival on their school's beloved football team for help.
While the new series has already premiered it's first episode online, it will be premiering in it's regular Saturday night time slot TOMORROW (March 20) at 8:30pm ET/PT on Nickelodeon.
JJJ got to know more about Nathan with 10 Fun Facts. Check out what he revealed below!
1. During my downtime, I love to paint with gouache and watercolor.
2. I enjoy playing strategy games such as chess and Monopoly.
3. My sun, my moon, my ascendant, my Mercury and my Venus are all in Aries.
4. I secretly love to analyze a celebrity's astrology natal chart.
5. Lana Del Rey and Taylor Swift are my most listened to artists on Spotify!
6. The Crown is my favorite tv show right now! I LOVE EMMA CORRIN!
7. Legally Blonde is my favorite musical.
8. I am constantly on Pinterest.
9. I love to skateboard around set.
10. World History is my favorite subject in school!
Like Just Jared Jr. on FB