Fri, 19 March 2021 at 4:48 pm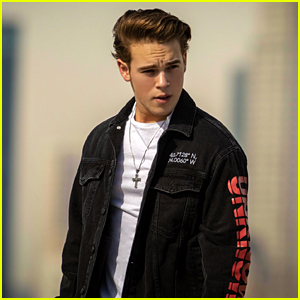 Ricardo Hurtado's new Netflix series Country Comfort is out now!
The 21-year-old actor stars as Tuck, the eldest in the family that Katharine McPhee's Bailey comes to be the nanny for.
Here's a synopsis: When her career and personal life get derailed, an aspiring young country singer named Bailey (McPhee) takes a job as a nanny for a rugged cowboy named Beau (Eddie Cibrian) and his five children. With a never-give up attitude and loads of Southern charm, this newbie-nanny is able to navigate the family dynamics and be the mother figure they've been missing. To her surprise, Bailey also gets the band she's been missing in this musically talented family who help get her back on the road to stardom. Watch the trailer here!
"Country Comfort was such an amazing project to be a part of. What I love most about it is how it combines both music and acting," Ricardo told JJJ. "It really brings back memories to my first show, Nickelodeon's School of Rock. This time, however, instead of being the drummer I get to play the guitar and sing! Everyone on set is so talented, professional, and kind. I am so grateful to work with such amazing people. I had an absolute blast and hope to do more!"
Ricardo is of course no stranger to Netflix as he starred in Malibu Rescue. He also starred in the School of Rock series, as well as appearing on The Goldbergs, Nicky, Ricky, Dicky & Dawn, Speechless, and Bunk'd, plus voice roles on Glitch Techs and Middle School Moguls.
JJJ learned 10 Fun Facts about Ricardo a few years ago, but now that he's a little older and ENGAGED, we got to know 10 more fun facts about him! Check them out below and be sure to watch Country Comfort on Netflix.
1. I am currently double majoring in both Business and Biblical Studies.
2. I played the drums at my church when I was 10, and little did I know that my drumming abilities would help me book the role of Freddy the drummer on Nickelodeon's School of Rock 5 years later.
3. My family is from Nicaragua and I speak fluent Spanish.
4. I got engaged to the daughter of the director of Malibu Rescue.
5. I love horseback riding and I've even filmed myself accidentally falling off of one from a drone! (Video on my Instagram)
Click inside for more…
6. My favorite dessert is three leches and my favorite snack is Takis.
7. My favorite movie is Interstellar because I absolutely love everything that has to do with Astronomy.
8. In Malibu Rescue 2: The Next Wave, I actually did my own stunt of standing on top of the moving truck.
9. I am currently in the process of getting my real estate license.
10. My favorite genre of music is classic 80's.
Like Just Jared Jr. on FB