Fri, 19 March 2021 at 7:44 pm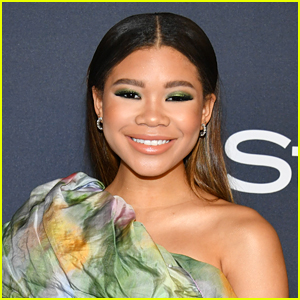 Storm Reid is now a Maybelline spokeswoman!!
The 17-year-old actress revealed the exciting news on Friday (March 19).
"A STORM is coming to @Maybelline New York! Wow. I'm absolutely honored. FLOORED to join the Maybelline Family, and be a part of a brand with a shared mission to inspire, drive change, and empower women. I can't wait to create more beautiful things together. It's only up from here. 🌩✨ #globalspokesperson," she wrote on Instagram.
"It's such a blessing and so surreal… Maybelline has been a part of my life for basically my entire life," Storm told Essence. "My mom is not a big makeup person, but she's always a worn mascara. I always just saw Maybelline mascara in the house, and sometimes she would put it on me for recitals or auditions. So I was already familiar with their products. And when this opportunity came to me and when I was having conversations with the Maybelline team, I immediately felt like I was a part of the family. I really knew and could see that my voice and my opinion mattered."
Storm added, "And as a young Black girl, I won't just be "the face" of something. I'll be able to implement ideas, I'll be respected. So yes, even though I do have access to tons of different things, whether that's makeup brands or not, I'm a purpose driven person. And that's whether I'm working with brand or jumping on a project as an actress or producer, it has to mean something."
"It has to not only impact me, but impact audiences," she continued. "I'm trying not to get too excited, but like on Friday when the product launches and all these things come out from Maybelline, to see a young 17-year-old Black girl in like CVS representing a brand, that's impactful. And that's something that young girls like us need to see."
Storm recently donated to some Black and Latinx-owned ice cream shops in celebration of the recently released movie Yes Day, which has reached the #1 spot around the world on Netflix!
Like Just Jared Jr. on FB