Mon, 22 March 2021 at 5:19 pm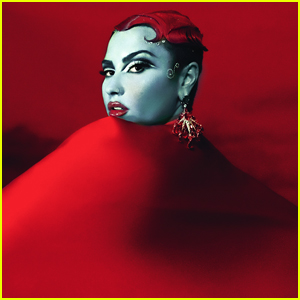 Demi Lovato looks fierce in red in this photo from her new Paper Magazine cover feature.
The 28-year-old posed for multiple looks and even turned into a bit of an alien for some of the pics.
"Photoshoot of my dreams 👽🌈," Demi said on Instagram of the shoot.
In the mag, Demi opened up about her sexuality and how she doesn't really have a specific label for herself.
"Going back over the past year, I thought my life was going to turn out a lot differently than it has," she said. "At one point I was engaged to a man, and now I'm very much not."
"I just wanted to allow myself the freedom to match my outside to what I feel like on the inside, and that's what I've done," she shared about her newly black, short hair.
"The queer label is fine because to me it's just this blanket statement of being different," Demi added. "That's what I can commit to. I feel like I'm too fluid to commit to a label."
For more from Demi, and to see more of the photos, head to PaperMag.com!
Demi also recently opened up about how she's not really romantically interested in men anymore.
Like Just Jared Jr. on FB