Tue, 23 March 2021 at 6:35 pm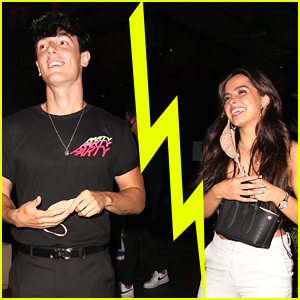 It's officially over for Addison Rae and Bryce Hall.
After about a month of speculation over the status of their relationship, the couple have broken up after six months of dating, E! News confirms.
The pair had been seen together off and on for a few months, before making their relationship official in October. In late February/early March, there were rumors that Bryce had cheated on Addison, but he put those rumors to rest.
Fans have also noticed that she no longer follows him on Instagram, and they both unfollowed each other on Twitter.
In a new interview with Apple Music's Zane Lowe, Addison talked about her debut single "Obsessed" and how it came about.
"So the night recording this… I mean the process, there's a little story behind the entire song. So I was driving right before the studio, I had dropped off my ex boyfriend…my boyfriend At the time and I dropped him off at his house," she said. "And then before that happened he looked at me and was like, 'I'm obsessed with you.' And I was like, 'Me too.' And I didn't really mean that. It was kind of an accident. I mean I didn't really mean that, I kind of meant, I'm obsessed with you too. But he was like, 'Oh, are you obsessed with yourself?' And I was like, 'You know what? I should be.' And then I was like, 'But I'm obsessed with you too, whatever.'"
"So I ended up getting to the studio and I was running a little bit behind, and I walk in and they had already started working on this track. They were really building it out, it was just a few chords. And then we already had a concept that we had previously talked about, we had been writing that entire week and we started writing it over the track," Addison continued. "And so I walked in and they were like, 'Yeah, we're working on this concept, this track, whatever.' So we start writing and then probably an hour into it I'm like, 'Let me tell you guys about this story. I just told my boyfriend that I was obsessed with myself, but I didn't mean to.' And they were like, 'Wait, you should be obsessed with yourself.' And I'm like, 'You know what? You're so right.'"
"And so we crafted this concept almost on an accident, but then turned it into something that means so much more," she shared. "There's two ways people can look at this. They can look at it like, oh, she's obsessed with herself. Which is funny because social media nowadays kind of makes that image look like that's how it is. You only really post yourself on your own social media and that's been such a big thing for now. But also just loving yourself and realizing that to feel loved by someone else you really have to love yourself."
Like Just Jared Jr. on FB