Wed, 24 March 2021 at 1:47 pm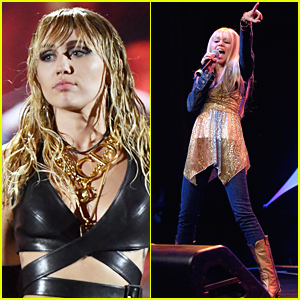 Miley Cyrus is celebrating the 15th anniversary since Hannah Montana first premiered.
The 28-year-old entertainer starred as Miley Stewart/Hannah Montana in the hit Disney Channel series from 2006-2011.
On Wednesday (March 24), Miley took to Instagram to share a letter she wrote to Hannah to celebrate the show's premiere date anniversary – March 24, 2006.
"Since the first time I slid those blonde bangs over my forehead in the best attempt to conceal my identity. Then slipped into a puke pink terry cloth robe with a bedazzled HM over the [heart]. I didn't know then… that is where you would live forever," she wrote. "Not just in mine but millions of people around the world. Although you are considered to be an 'alter ego' in reality there was a time in my life when you held more of my identity in your glovette than I did in my bare hands."
"We had an equal exchange in which you provided a superlative amount of fame in return for the anonymity I could gift to you. But, a lot has changed since then. You were like a rocket that flew to the moon + never brought me back down. I couldnt have imagined when taping myself singing 'I love Rock N Roll' against a white wall in my moms friends kitchen in Nashville, TN the name typed in marquee style letters on the front of a first draft script would make my wildest dreams a reality," she continued.
"Not a day goes by I forget where I came from. A building in Burbank, California with a room full of people with the power to fulfill my destiny. And that they did. They gave me you. The greatest gift a girl could ask for. I love you Hannah Montana. Forever, Miley."
Check out her entire letter below!
Back in 2019, almost exactly two years ago, Miley got her real hair done to look just like the Hannah wig.
In February 2020, her dad Billy Ray got fans talking when he mentioned there was talk of a prequel. Then, in August, Miley opened up about the possibility of a Hannah Montana comeback.
Like Just Jared Jr. on FB