Wed, 24 March 2021 at 4:33 pm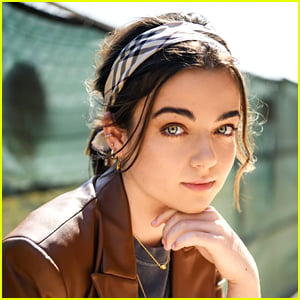 JJJ is getting to know more about Taegen Burns!
The young actress will soon be seen in the upcoming Disney+ series The Mighty Ducks: Game Changers as Maya Kasper, the popular girl who just isn't sure that she is with the right group of friends.
Here's a synopsis: Set in present day Minnesota, the Mighty Ducks have evolved from scrappy underdogs to an ultra-competitive, powerhouse youth hockey team. After 12-year-old Evan Morrow (Brady Noon) is unceremoniously cut from the Ducks, he and his mom, Alex (Lauren Graham), set out to build their own team of misfits to challenge the cutthroat, win-at-all-costs culture of youth sports today. With the help of Gordon Bombay, they rediscover the joys of playing just for love of the game. Watch the trailer here!
Taegen started off her career as a model and in commercials before getting into acting. She has since played a young Paris Jackson in the Lifetime movie Michael Jackson: Searching for Neverland, as well as playing a young Shannon in the film I Can Only Imagine.
She has also had a recurring role on another Disney+ series, The Right Stuff, where she plays Laura Shepard.
Learn more about Taegen Burns with 10 Fun Facts below, and be sure to tune in to the premiere of The Mighty Ducks: Game Changers THIS Friday (March 26) on Disney+!
1. I enjoy sketching, painting, and photography.
2. I love traveling to new places and Paris, France is on my bucket list.
3. I have played soccer, basketball, and tennis. Tennis is my favorite.
4. I love French fries, but refuse to even try mashed potatoes.
5. I love the "Gregor the Overlander" series and finished reading all five books in a few weeks.
Click inside for more fun facts from Taegen…
6. My three brothers and I all have names with six letters and have "ae" in them.
7. My favorite show is The Office and I would love to work with John Krasinski one day.
8. My first concert was Taylor Swift with my mom. My playlist also includes The Strokes, The Killers, The Artic Monkeys and The Black Keys.
9. Curious George was my favorite cartoon and I had several monkey shirts, stuffed animals, and pajamas.
10. I used to be terrified of Lovebugs and would skip recess if they were outside.
Like Just Jared Jr. on FB