Thu, 25 March 2021 at 6:27 pm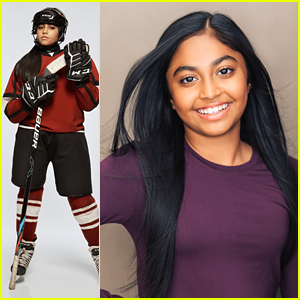 Sway Bhatia is hitting the ice in the new Disney+ series The Mighty Ducks: Game Changers!
The 13-year-old actress will be starring as Sofi in the upcoming series, which premieres TOMORROW (March 26).
Here's a synopsis: The Mighty Ducks have evolved from scrappy underdogs to an ultra-competitive, powerhouse youth hockey team. After 12-year-old Evan Morrow (Brady Noon) is unceremoniously cut from the Ducks, he and his mom, Alex (Lauren Graham), set out to build their own team of misfits to challenge the cutthroat, win-at-all-costs culture of youth sports today. With the help of Gordon Bombay, they rediscover the joys of playing just for love of the game.
VIDEO: Click here to watch The Mighty Ducks: Game Changers trailer!
Sway will also be seen in the upcoming third season of Succession, where she plays Jeremy Strong's daughter Sophie Roy. The series is currently in production.
JJJ got to know more about the rising star with 10 Fun Facts. Check them out below!
If you missed it, Sway recently shared about how Vice President Kamala Harris has served as an inspiration to her.
1. I'm a Jersey kid… born in The Big Apple, but raised in Dubai. I hopped on my first flight at the age of 3 weeks to Dubai and that is where I grew up, until the age of 6. Ever since birth, I've loved traveling. Japan and Maldives are some of my favorite vacation spots and I can't wait to explore more of the world!
2. Music is a big part of my life. Since the age of 4, I've been drumming, learning classical music on the piano and taking vocal lessons. Recently, I added bass to my one women music band and have been enjoying it all. If you want to know my favorite artist, thank u, next.
3. I'm the biggest Lin Manuel-Miranda fan, which of course means I love Hamilton. He inspired me to learn how to rap and write my own music! I have a few rap parodies that I shared on my social media and I've got more original content coming soon.
4. Basically, I'm a tech geek. I've been taking coding classes at school and summer programs. P.S. I literally walk around the house with a walkie talkie and drive my parents crazy. Over.
5. Fashion is my middle name. I'm very comfortable with experimenting with all styles of fashion including Indian ethnic wear. I never shy away from shopping. I have Fashion Friday segments on my TikTok and Instagram. I've been able to participate in New York Fashion Week the past few years.
Click inside for more fun facts from Sway Bhatia…
6. I love cooking and being in the kitchen with my Dad. Guacamole is my favorite!
7. I absolutely love Bollywood. I worked on an ice skating scene when I was 5 with the legend Shah Rukh Khan and the one and only Deepika Padukone for a Bollywood movie called Happy New Year!
8. One of my favorite shows is The Golden Girls. My mom has the DVDs for all 7 seasons and we binge watch them all the time, especially during quarantine. My favorite character is Sofia! But of course my all-time favorite show is Stranger things! I'm obsessed with Noah Schnapp! Other shows I love include HSMTMTS, The Office, WandaVision, and of course soon to be the Mighty Ducks: Game Changers on Disney Plus.
9. I enjoy making people laugh, and let's just say I've got a little Liza Koshy and Lily Singh in me.
10. I love to dance! I was probably dancing before I could walk. In fact, my first performance was when I was 3 years old dancing at the sold out Meydan Race Course with Priyanka Chopra in Dubai.
Like Just Jared Jr. on FB