Fri, 26 March 2021 at 1:52 pm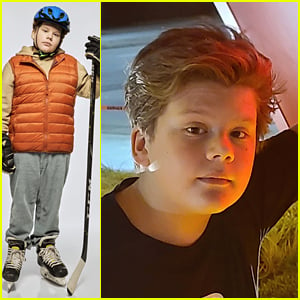 Maxwell Simkins is starring in the new series The Mighty Ducks: Game Changers!
The young actor plays Nick, the best friend of Brady Noon's Evan in the Disney+ sequel series.
Here's a synopsis: The Mighty Ducks have evolved from scrappy underdogs to an ultra-competitive, powerhouse youth hockey team. After 12-year-old Evan Morrow (Noon) is unceremoniously cut from the Ducks, he and his mom, Alex (Lauren Graham), set out to build their own team of misfits to challenge the cutthroat, win-at-all-costs culture of youth sports today. With the help of Gordon Bombay, they rediscover the joys of playing just for love of the game. Check out the trailer here!
Maxwell is hilarious in the new show, much like he was in the Netflix movie The Sleepover, which released last summer. He's also previously been in Disney Channel's live action Kim Possible movie and Bizaardvark. He'll soon be heard on the upcoming Disney Junior animated series The Chicken Squad!
We got to know more about Maxwell Simkins with 10 Fun Facts. Check them out below, and be sure to catch him in The Mighty Ducks: Game Changers, now streaming on Disney+!
1. I was born and grew up in Philadelphia. Been bicoastal for last 4 years between Phila and LA. Love All Philadelphia sports teams!!!
2. I have a Havanese dog named Ace!!! @absolutly_ace
3. I'm a huge sneakerhead and know almost every sneaker. Love street wear as well.
4. Got into acting because I loved Cameron Boyce on Jessie. Booked My first audition with Rob Reiner.."And So It Goes" at age 6.
5. Love The Simpsons, Star Wars. Dream role Spiderman, Batman or anything in Star Wars.
See more fun facts inside…
6. I write music and rap. Love hip-hop so much. Working on EP. @iammaxabillion
7. My favorite song is either "Patiently Waiting" or "Forgot About Dre." I love 50, Dr Dre and Eminem.
8. Share same birthday as Eminem. OCT 17.
9. Played Chess since really young. Played in tournaments and in parks.
10. Have a 10 year old brother, Oscar that I love to death. He's the nicest and most amazing kid and my best friend.
Like Just Jared Jr. on FB