Wed, 31 March 2021 at 7:37 pm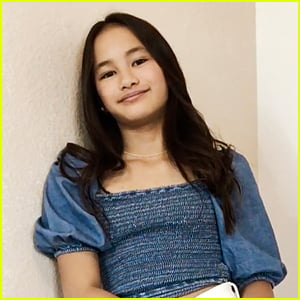 Kaylee Hottle is the breakout star of the new movie Godzilla vs Kong!
The young actress makes her film and television debut as Jia in the epic film.
Here's a synopsis: Legends collide in Godzilla vs Kong as these mythic adversaries meet in a spectacular battle for the ages, with the fate of the world hanging in the balance. Kong and his protectors undertake a perilous journey to find his true home, and with them is Jia, a young orphaned girl with whom he has formed a unique and powerful bond. But they unexpectedly find themselves in the path of an enraged Godzilla, cutting a swath of destruction across the globe. The epic clash between the two titans—instigated by unseen forces—is only the beginning of the mystery that lies deep within the core of the Earth. See the trailer here!
Kaylee, who is deaf, is fluent in American Sign Language, and her and her family actually live in a deaf community, where she attends a deaf school.
JJJ got to know the young actress with 10 Fun Facts. Check them out below!
Be sure to check out Kaylee in the epic new film Godzilla vs Kong, in theaters and on HBO Max now.
1. I was born in Atlanta, GA and darn proud of it.
2. I am a seafood lover.
3. I love going to beach for the feel of the sand.
4. Koalas and kangaroos are my favorite animals.
5. Sofia Wylie is my favorite dancer/actress.
6. Australia was the first international country I've been to, and South Korea will be next.
7. I have an older Deaf sister and 3 younger hearing siblings.
8. Track is my favorite sport.
9. I am 4th Deaf generation in my family.
10. I am half Caucasian and half Korean.
Like Just Jared Jr. on FB