Wed, 31 March 2021 at 6:54 pm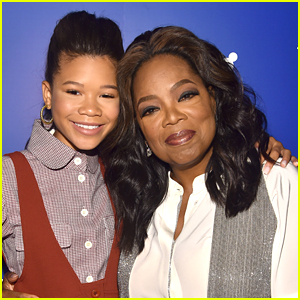 Storm Reid has shared some very exciting news – she got in to USC, aka University of Southern California!!
The 17-year-old actress uploaded a video to her Instagram account of her checking her application status, and crying at the good news.
"I've been on set allllllll day, and I wanted to wait to get home to open this. Was a ball of nerves all day. I got my first college acceptance two weeks ago, but I've been waiting on this one for a hot minute. WE GOT INTO USC BABY. ✨❣️," she captioned the video.
Storm's comment section was flooded with congratulatory messages and love, including from her A Wrinkle In Time co-stars Oprah Winfrey and Mindy Kaling.
"College?Already?!! Feels like just the other day I was Mrs. Whichin' it with you and you were 13 ! O well guess that was just a wrinkle in time 😉. Congratulations dear one. USC , you will bless that campus.🤎💜❤️," Oprah wrote.
Storm replied, "I LOVE YOU SO MUCH. You don't know how much of an impact you've made on me. 🥺♥️"
"Storm, I'm thrilled for you!!! 🙌 you're such a star!! Congrats to your mom as well; she raised such an amazing young woman. Good for you, @uscedu !! ❤️❤️❤️," Mindy commented.
Storm even reposted a video of someone else who just accepted to USC – Natalia Bryant, Kobe's oldest daughter.
"Im proud of you!!!!!" Storm wrote on her story in all caps.
"Tears of joy. I'm SO happy for you Nani! I know daddy is so PROUD OF YOU. I am so PROUD OF YOU!! Your hard work and dedication was so worth it. You pushed through the most excruciating pain imaginable and you succeeded. I wish Daddy and Gigi were physically here to celebrate but I know they're here in spirit. We love you so much! #USC #Trojan #FightOn ❤️" Natalia's mom Vanessa Bryant captioned a video.
Congratulations Storm and Natalia!!!
Like Just Jared Jr. on FB