Fri, 02 April 2021 at 1:24 pm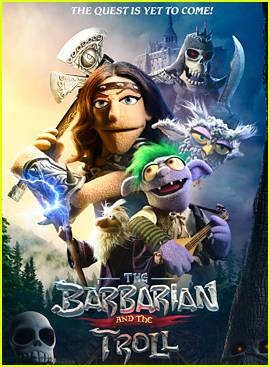 A new show is coming to Nickelodeon, starting TONIGHT (April 2)!
The Barbarian and the Troll will have it's series premiere on the network, and we have all the info you should know right here.
Previously titled Brendar the Barbarian, the live-action puppet comedy series follows Evan, a bridge troll in search of adventure, and Brendar, a fierce female warrior on a quest to defeat the evil demon who has imprisoned her brother.
Check out the trailer below!
In the first episode, Evan the troll decides to burn his bridge and venture out into the world of Gothmoria for the first time to fulfill his lifelong dream of becoming a singer. He soon meets Brendar, who had been expelled from the Royal Order of Warrior Princesses and is now known as a "feared and revered" barbarian.
After Evan convinces Brendar to bring him on her quest to vanquish the evil demon, they cross treacherous terrain to confront bizarre and magical creatures and encounter an eclectic puppet cast of wacky characters.
Actress Spencer Grammer stars as the voice of Brendar, Gothmoria's most feared and revered warrior, and Drew Massey stars as Evan, a bridge troll with a dream of becoming a singer.
Tune in to The Barbarian and the Troll TONIGHT (April 2) at 7:30pm ET/PT on Nickelodeon!

'The Barbarian and the Troll' Trailer
Like Just Jared Jr. on FB