Wed, 07 April 2021 at 2:09 pm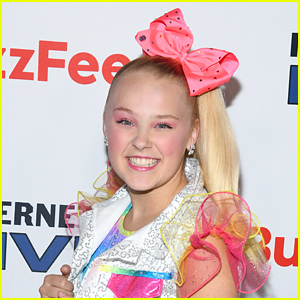 JoJo Siwa is dishing on her life, her sexuality, work and more in her new People magazine cover!
The 17-year-old entertainer opened up about falling in love with her girlfriend, and what she closely identifies as.
If you didn't know, JoJo has previously not put a label on her sexuality as she said she was still figuring it out.
Click inside to see what JoJo Siwa shared…
"For the first time personally, I am like, whoa, happiness. It's so cool. It's so awesome, but my whole thing with me coming out is like I knew since I was little. You can ask anyone in my family. No, I never ever would have said like, 'I am straight, I only like boys.' I always just said, you know, like my human is my human and one day, if that happens to be a girl, awesome, and if that happens to be a boy, awesome. Either way, it doesn't matter to me," JoJo told the mag. "And I found my human and my human's a girl, and so I was like all right. Now it's time to come out. Let's do it."
"You know, the risk is the world is a scary place, and there are still a lot of people you know, who maybe don't accept it or don't fully support it, and that's not okay, but that is okay because there are so many more people who do accept it and who do support it," she said.
As for how she identifies, JoJo added that she still isn't 100% sure, but shared what technically and closely represents her.
"I was literally talking with my girlfriend about his… and I was like, 'I still don't know what I am,' and she was like, 'You don't have to.' I was like, 'No, I know I don't have to but I want to.' It's like I want to figure out, and I have this joke. Her name is Kylie, and so I say that I'm Ky-sexual," JoJo shared. "But like, I don't know, bisexual, pansexual, queer, lesbian, gay, straight. I always just say gay because it just kind of covers it or queer because I think the Q word is cool. I like queer."
"Technically I would say that I am pansexual because that's how I have always been my whole life is just like, my human is my human," she added. "You know, I still really don't have a final answer on that and I don't know if I ever will. It's something that just kind of floats around and I'm living my life, and that's just… it is what it is. It is what's happening."

JoJo Siwa on Coming Out – People
Like Just Jared Jr. on FB