Thu, 08 April 2021 at 5:01 pm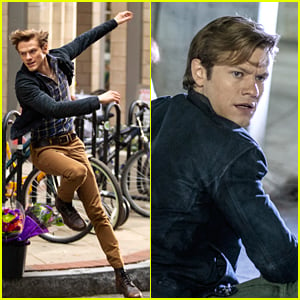 Lucas Till has shared a letter following the MacGyver cancelation.
The 30-year-old stars as Angus "Mac" MacGyver in the CBS series, which will be coming to an end after it's current fifth season.
MacGyver premiered in 2016, and was a reboot of the 1980s series of the same name. It is an "action-adventure drama about 20-something Angus 'Mac' MacGyver, who is part of a clandestine organization within the U.S. government, where he uses his extraordinary talent for unconventional problem-solving and vast scientific knowledge to save lives… Under the aegis of the Phoenix Foundation, MacGyver takes on the responsibility of saving the world, armed to the teeth with resourcefulness and little more than bubble gum and a paper clip."
You can catch the remainder of the season on Friday nights at 8pm ET/PT on CBS.
Click inside to see what Lucas wrote about the show ending…
"Where to begin? The past five years have been what I will look on later as THE most formative years of my life. Lots of tough, lots of love. I made life long friends, actually no, family. I learned to push myself to new limits, breaking through and through and through. Was nervous to take up the mantle of an icon and you guys allowed me into your homes and accepted me. I'm like the Roger Moore of MacGyvers now thanks to your support. Lol," Lucas wrote on Instagram.
"But this is also a love letter to my cast and crew, to those who have been with us since day 1 or day 1000, through those oppressive summer days in the Georgia heat, where the humidity envelopes you like a warm sweater to the below freezing winter days where the worst part about it is that no one believes you when you say it gets cold in Georgia. Lol."
"Through all the people who said we wouldn't make it past the first 13, through all the tough times you guys always somehow brought so much joy into my life, helped me grow exponentially and you've shown me what it means to be a real cinema team. This format just doesn't do enough justice for all that I want to say, so maybe this is the first of many blubbering messages, but thank you, my new family, from the bottom of my heart, thank you. All of you."
Like Just Jared Jr. on FB