Thu, 08 April 2021 at 5:57 pm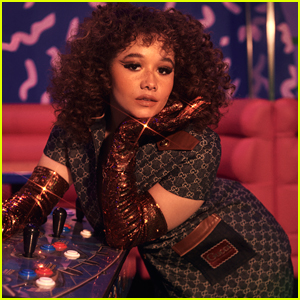 Talia Jackson is opening up about her journey through the backlash over her Family Reunion character's hair.
When the show first premiered on Netflix, there was a lot of backlash on the 19-year-old's wig in the beginning of the series.
Talia herself even took to Instagram to set the record straight and share what was really going on with her hair and the wig.
Now, she's been rocking her natural curls on the show, and is looking back at how scary of a time it was a couple of years ago.
See what she said inside…
"We didn't get the nicest wig," she told Teen Vogue. "It was a very cheap wig, and unfortunately, I ended up getting all the backlash from that."
She also opened up about how being biracial affected people's initial opinions, and how her co-star Tia Mowry-Hardrict helped.
"I swear, about 70% of the comments were like, 'I can't believe they cast a white woman as the teenage daughter,'" she said. "'Why would they cast a white girl as the daughter in a Black family?' People were going on about how light I was and how I didn't fit the family."
"I remember looking at the comments and thinking, Oh, my God! I have to prove to them that I'm mixed. They don't know I'm mixed," Talia added. "I have to get it out there that I'm mixed."
She even thought that all of the backlash about her race and her hair would get the show canceled.
"I was genuinely fearful of that fact — that people thought I was white or too light would end up getting the show canceled," she remembers. "I had this huge burden put on me. I felt like I was ruining this for everybody."
Tia, who is also biracial, was able to offer her some advice and insight.
"It was the most comforting conversation I have ever had," Talia recalls of her talk with her TV mom. "Having somebody be so honest and real and blunt — it truly got me through all of that."
To see more from Talia, head to TeenVogue.com.
If you missed it, see what Talia shared with us last year about her music career and Family Reunion.
FYI: Talia is wearing all Gucci, with styling by Ryann Redman, and hair and makeup by Colleen Guzinski.
Like Just Jared Jr. on FB