Thu, 15 April 2021 at 6:25 pm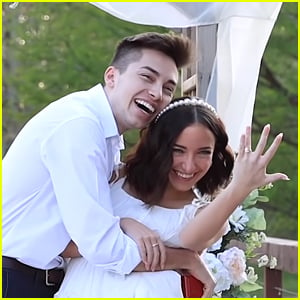 It's been almost two weeks since Bailey McKnight got engaged to longtime boyfriend Asa Howard!
Now, the 21-year-old YouTuber has shared her proposal video on her Brooklyn & Bailey twin channel.
"I met Asa met five years ago WAY BACK in 2016 when I was only 16 and he was 15. I didn't know it then, but I had just met my future husband! It took a year of him pursuing me, and me constantly putting him in the FRIEND ZONE, before I realized what a catch he really was! On Feb 25, 2017, Asa and I officially started dating, ending the day with my very first kiss!" Bailey wrote in the description.
"In the beginning of this proposal video, there is a small outtake taken when Brooklyn and I were filming our music video for Simple Things in May, 2017. In that moment, Brooklyn and my mom had put Asa up to the task of pranking me with a fake wedding ring and proposal! Little did I know then that four years later Asa would be the one to OFFICIALLY propose to me… and I wouldn't have it ANY. OTHER. WAY!" she continued.
"As Asa walked me out to where he planned to propose, I started bawling my eyes out when I figured out what was going on… I literally had NO clue! The date 4/3/21 will forever be a day to remember for the both of us.❤️ It might seem small to you, but it was like even the world was counting down for us!"
"I'm so glad I got to say YES to my forever! (I'm still having a hard time remembering to call Asa my fiancé instead of boyfriend LOL!)"
Congratulations once again to Bailey and Asa!!!

Bailey & Asa's PROPOSAL Video ❤️
Like Just Jared Jr. on FB