Fri, 16 April 2021 at 3:15 pm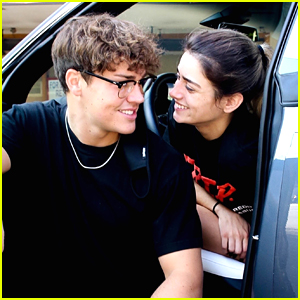 Dixie D'Amelio and Noah Beck are opening up about their relationship!
The 19-year-old Sway boy was a guest co-host on the 19-year-old's 2 Chix podcast with her and they answered some questions about themselves.
Among those topics were what their first impressions were of each other and what it was like saying "I Love You" for the first time.
Click inside to see what they shared…
"The first time I met you, I was just like, 'Oh, okay,'" Dixie said. "I saw him online, and then… I didn't really think…"
"Ouch," Noah said.
"I had a boyfriend!" she continued. "And I was just chillin', I was with my friends and we ran into each other. I think you were with Blake [Gray]… Then I think I met you again sometime? You were just always where I was. Was that on purpose? I'm oblivious…"
"Yeah, I thought you were cool and I just wanted to keep hanging out with you," Noah added. "The first time I met you it was really fun and you were really cool to talk to, but my first impression was… I don't know, you were just intriguing."
As for when they said "I love you," it was on the set of her "Be Happy" music video.
"I had so many things planned, like going on in my head. I has so many ways to tell you I loved you, but like this was kind of cute," Noah said.
"Yeah, I think it happened perfectly. So here's what happened," Dixie chimed in. "We were on the set of the video and I was like, 'Oh my god, you hate me.'"
"You were just being quirky, 'cause like they were like, okay, so while the music's playing, and the cameras are rotating around us, they were like just talk, just be normal. Kind of be talking how you would in this situation," Noah went on. "So we were just chatting, and then there was a little awkward silence, and then you were like, 'You literally hate me.'"
"And I was like, 'Stop, I literally love you.' I was like oh," he said.
"I didn't say anything… I thought it was just a complete accident, so I didn't want to say it back, 'cause I was like, god he hates me," she said.
"The rest of that music played out and I was so red. I was so embarrassed," Noah added. "When the music stopped, you were like, 'Did you mean that?' And I'm like, 'Yeah, every bit of it.' But I didn't mean for it to come out that way. And you were like aww, and then you didn't say anything until like 45 minutes later when they cut me. They were like, 'Noah, you're wrapped.' And I was like okay, I'm gonna go home, and then you came up to me and you're like, 'I love you too,' and I was like awww that's so cute."
Dixie also took care of Noah as he got surgery recently. Check out his new YouTube video below!
Like Just Jared Jr. on FB