Sun, 18 April 2021 at 8:40 am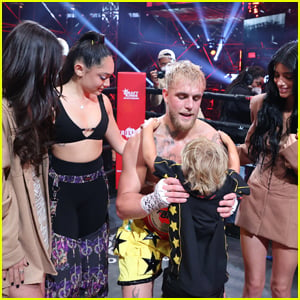 Charli D'Amelio and Dixie D'Amelio are getting some backlash.
The TikTok superstars started trending on social media after presenting Jake Paul with a belt after his fight with Ben Askren at the Triller Fight Club event on Saturday night (April 17).
During the fight, Jake ended up knocking out the retired MMA fighter in the first round. The D'Amelios then appeared alongside fellow TikTok star Avani to present Jake with the belt, which was deemed "awkward" and "cringey" on social media.
Find out more inside…
"Bro Charli and Dixie D'Amelio handing Jake Paul the belt was one of the most cringiest things I've ever seen," one person wrote.
"I really wanted to take this fight serious but they just had Charli and Dixie present the belts #TrillerFightClub," another wrote.
In response, Dixie wrote on Twitter: "I make you so mad, huh?"
She also posted an Instagram Story selfie, writing: "when there are 11k tweets about you putting a belt on a boxer."
At the same time, fans of the internet stars defended their appearance.
"WHY ARE CHARLI AND DIXIE TRENDING BECAUSE THEY PUT A BELT ON A BOXER- HOW IS THAT SUCH A PROBLEM HUHHHH" one wrote.
Find out how much Jake Paul made for the fight.
Check out some of the reactions…
Like Just Jared Jr. on FB