Mon, 19 April 2021 at 11:05 pm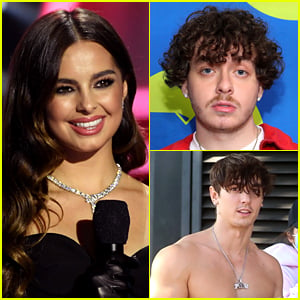 There's a lot of drama happening right now between Addison Rae, her ex-boyfriend Bryce Hall, and singer Jack Harlow. Let us catch you up!
As you probably know, Addison and Bryce recently ended their on-and-off relationship after dating throughout the pandemic. For those that don't know, they are two of the biggest stars on TikTok.
Fast forward to this past weekend and Addison was rumored to be seen holding hands with Jack while attending the Triller fight night.
Even though Bryce and Addison aren't together anymore, he doesn't seem to be happy at all. He blew up on Twitter on Monday (April 19) and his tweets are seemingly about the Addison and Jack rumors.
Keep reading to find out what they both said…
"im about to explode man," Bryce tweeted in the early morning hours on Monday. He later added, "f–king me, telling me u love me then sneaking around w/ someone else… that f–kin hurts."
Hours later, Bryce tweeted, "i feel like such an idiot."
Addison then clarified that she's not dating either Jack OR Bryce right now. She tweeted, "I'm single."
One hour after Addison sent out that tweet, Bryce wrote, "sh–ty days always get worse."
You can check out all of the tweet embeds below. Another social star was rumored to be dating Addison recently.
Like Just Jared Jr. on FB