Mon, 19 April 2021 at 4:55 pm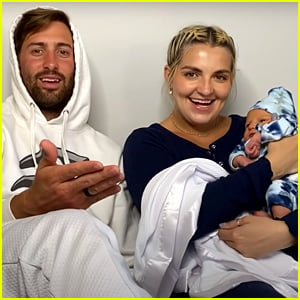 Rydel Lynch and Capron Funk have been parents for a whole week now!
This past weekend, the new mom and dad revealed the unique name they've given their little boy.
"His name is Super," Rydel shared in a new YouTube video.
"Super Funk and I'm lucky enough to give him the middle name," Capron added. "So it's Super Capron Funk. That's the coolest thing ever! Rydel is the one who thought of the name. We've gone through a lot of names and Super is just it, it's just too super to not pick… So blessed to have Rydel in my life and Super, and I love his name."
They do admit that the name Super is "a little weird" and that "it's an optimistic name, it's positive, very Cali style." It's also a little nod to Rydel being a superhero to Capron, by being his wife, as well as carrying and giving birth to their child.
"I'm just curious how everyone reacted when they first saw it because it's not a name, you're not ready for it," Capron says. "It's a type of name that really grows on you too because at first, it's like, okay it's a little weird, and then you're like wait, this is lit."
Rydel also shared that like her and her siblings, her kids' names are all going to start with the same letter, "S," starting with Super of course.
Super Capron Funk was born last Sunday, April 11th, and weighed in at 7lbs, 5oz and 20 inches long.
If you missed it, you can check out the couple's birthing video right here!
Like Just Jared Jr. on FB