Mon, 26 April 2021 at 3:25 pm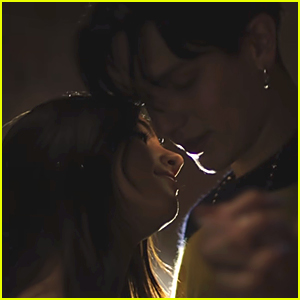 Chase Hudson, aka LILHUDDY, is opening up about his new "America's Sweetheart" music video!
The 18-year-old TikTok star and singer debuted the new track and visual last week, and over the weekend dished on a special moment on set.
During a Q&A on Instagram, he revealed that a particular moment made everyone on set cry.
"Did you and Charli get emotional at any point during the filming of this amazing vid?" one fan asked.
Click inside to see what he said…
"oh my god yes, the slow dance scene made everybody on set cry including the both of us," he responded. "it was just so special and with the intensity of the song playing it was moving honestly."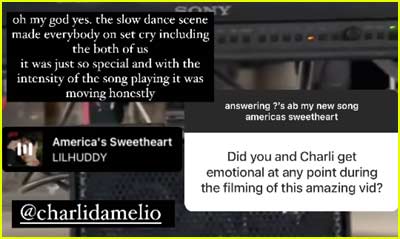 Chase also shared an Instagram post thanking everyone.
"my new single americas sweetheart is crushing it. surpassing 4.5 million views and #1 trending on youtube in 2 short days. that is unreal," he wrote. "first i would like to thank my amazing co-star miss damelio she does a great job at everything she does and i'm glad i made a perfectly fitting song for her to star in and connect with."
"second i would like to thank all of you guys this wouldn't be imaginable without each and every one of you! lastly a huge shoutout to my music team for helping bring my dreams come to life each day. this music journey that i've begun wows me every day and i don't plan on stopping my drive anytime soon. i love you all – 💕," Chase added.
"i wanted to talk about the america's sweetheart video and how amazing shoot day was!! this video shows a side of me i never truly get to showcase out of fear but chase gave me a place to feel comfortable enough to share the improv i did on set! i felt so comfortable and supported throughout the entire day from everyone!! i am beyond thankful for being able to be in this video and getting to be a part of this piece of art with the person i can lean on for everything, but with all that – this day was an incredibly emotional day for everyone but especially for chase and i just due to the fact that we both were able to be vulnerable throughout every scene which meant some tears from us both i am nothing but forever thankful for this opportunity! 💕💕," Charli shared in her own post.
In case you missed it, see how Chase said that Charli inspired the emotional new song.
Like Just Jared Jr. on FB