Tue, 27 April 2021 at 12:50 pm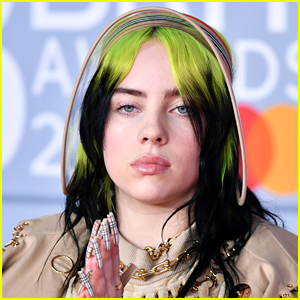 After teasing the news the day before, Billie Eilish has revealed her new album Happier Than Ever!
The 19-year-old singer unveiled the album artwork and title, as well as the date – July 30th.
"MY NEW ALBUM 'Happier Than Ever' OUT JULY 30TH! this is my favorite thing i've ever created and i am so excited and nervous and EAGER for you to hear it. i can't even tell you. i've never felt so much love for a project than i do for this one. hope you feel what i feel. alsoooo new song out thursday at 9am pt too!! pre-save/add/order nowwwww link in bio. AHHHHHHHHHHHHHHHHHHHHHH 🕊🕊🕊🕊🕊🕊," she captioned her post on Instagram.
The album cover features a blonde Billie, of course, looking up to the side, with a tear going down her face. She's also wearing the same outfit that she wore in the teaser clip she shared on Monday.
Presumably, the title track "Happier Than Ever" is what will be released this Thursday – Can't wait!!!
If you missed it, see what Billie previously teased about the album.
Click inside to see the full track list…
Check out the track list below…
1. Getting Older
2. I Didn't Change My Number
3. Billie Bossa Nova
4. my future
5. Oxytocin
6. GOLDWING
7. Lost Cause
8. Halley's Comet
9. Not My Responsibility
10. OverHeated
11. Everybody Dies
12. Your Power
13. NDA
14. Therefore I Am
15. Happier Than Ever
16. Male Fantasy
Like Just Jared Jr. on FB