Fri, 30 April 2021 at 7:38 pm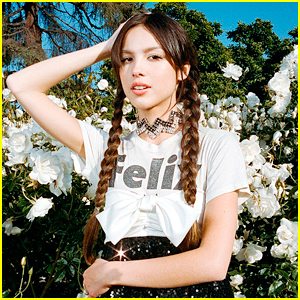 Olivia Rodrigo rocks pigtails in these new images from her feature with The Face!
The 18-year-old singer and actress dished to the publication about her music and her upcoming debut album Sour.
Click inside to see what she said…
On her music being genreless: "I feel like music is becoming increasingly genreless. I suppose I'm considered a pop artist, but I've never felt like one. This album is full of stuff that I like, which is so diverse. There are elements of alternative rock in there, alt-pop, some country and definitely a lot of folk. I think anyone can find something they like hidden in one of the songs."
On the meaning behind the album title, Sour: "I'm obsessed with the concept of awesome things in my life – like my relationship with myself and with others – progressively going sour as I get older. It's a very visceral word, one that captures the sounds that I'm inspired by and a specific slice of my life at 17. Plus it has my initials in it, which is a bonus!"
On a TikTok video inspiring a new song: "This one girl was being really helpful and sweet, like, ​'Someday, you're going to find a partner who's absolutely in love and obsessed with you and is going to treat you right, and this will all be a distant memory.' I remember being really affected by that and I wrote a lyric with that sentiment in the [Sour song] 'Enough For You.' So anytime someone tells you that being on TikTok isn't productive, you can tell them that story!"
For more from Olivia's interview, head over to TheFace.com!
In case you somehow missed it, Olivia's new duet with Joshua Bassett from season two of High School Musical: The Musical: The Series was just released and the songwriters dished on creating the track. Check it out here.
Like Just Jared Jr. on FB