Fri, 07 May 2021 at 5:28 pm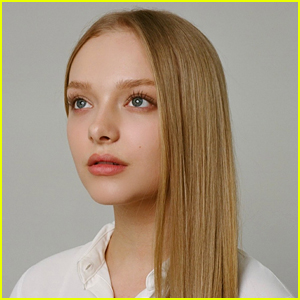 Amiah Miller is starring in the new movie The Water Man!
The 16-year-old actress plays Jo Riley in the new adventure drama.
Here's a synopsis: Gunner (Lonnie Chavis) sets out on a quest to save his ill mother (Rosario Dawson) by searching for a mythic figure who possesses the secret to immortality, the Water Man.
After enlisting the help of a mysterious local girl, Jo (Miller), they journey together into the remote Wild Horse forest — but the deeper they venture, the stranger and more dangerous the forest becomes. Their only hope for rescue is Gunner's father (David Oyelowo), who will stop at nothing to find them and in the process will discover who his son really is.
Watch the trailer here and go check out The Water Man in theaters NOW!
You may recognize Amiah from one of her many other projects, including War of the Planet of the Apes, House by the Lake, Lights Out or maybe even Best Friends Whenever.
We got to know more about Amiah with 10 Fun Facts. Check 'em out:
1. I have a 1965 Ford Mustang named Poppy.
2. I graduated high school when I was 15.
3. I'm a middle child.
4. I taught myself how to play the piano, guitar and banjo.
5. I love being outside. I feel the most at peace when I'm in nature.
See more inside…
6. I have over 500+ records in my collection.
7. I take pictures of everything. I love shooting with disposables and Polaroids.
8. I'm very much a morning person. I can barely stay up past midnight.
9. I plan on getting my motorcycle license this year.
10. I do Muay Thai and Ju Jitsu.
Like Just Jared Jr. on FB