Mon, 10 May 2021 at 9:17 pm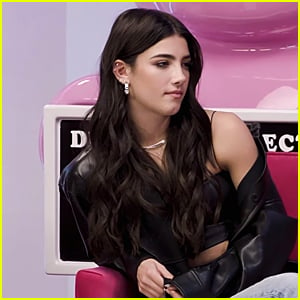 Charli D'Amelio is opening up about TikTok.
The 17-year-old was the latest guest on her sister Dixie D'Amelio's YouTube talk show and got real about the social platform, where she has the most followed account.
Charli shared that she doesn't really like the app anymore, and opened up about her future.
See what she said inside…
"I feel like when you have opportunities that are so amazing, but then an entire world of critiques for your every move, it's very difficult to find enjoyment in things that are being torn down so much," she said.
"It's extremely difficult to want to continue doing something that people say how much they hate and it's hard. It doesn't feel like used to, where there was collaborations and fun, and everyone was friends. Now it's like everyone's trying to beat each other and it's like that doesn't make sense to me," she continued. "That's not why I started TikTok. I started TikTok because I was making fun dance videos with my friends and now it's turned into this whole competition, which doesn't really make sense to me."
"Or people use it, or people talk when it's convenient for them, or things like that, or want to collab when it's convenient for them. It's like what happened to the friendships that everyone used to have. Everyone used to be so close and I know it all changed fairly quickly and I feel like throughout that, I feel like a lot of people don't want to reach out because they think everyone's reaching out."
"Then it's like while they were all making their friendships, everyone just kind of left the people that were, I don't know, the people that were trying to be there for everyone, they kind of left them in the dust and that's kind of where I feel like I've been," Charli said. "It's difficult when you don't have like a big friend group to support you when you're going through things."
Charli also talked about trying to figure out what she wants to do outside of TikTok (she auditioned for a movie, but didn't get it) and how she's taken on a more behind-the-scenes approach to things. Check out the video below to see what she shared!
If you missed it, Charli and Dixie recently announced their brand new clothing line!
Like Just Jared Jr. on FB