Wed, 12 May 2021 at 9:58 pm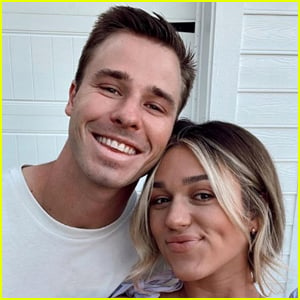 Sadie Robertson Huff has given birth to a baby girl!
The 23-year-old finally welcomed her little one into the world on Tuesday (May 11).
"we saw a million little miracles yesterday – the best one being this girl right here… Honey 💛," she wrote on Instagram. "the pure goodness of God. story to come, but I'm way too occupied right now by cuteness."
Find out the meaning of their baby's name inside…
Sadie and husband Christian Huff revealed their baby's name just a few weeks ago, Honey James Huff.
"'Gracious words are like HONEY, sweetness to the soul and health to the body.' Proverbs‬ ‭16:24‬ ," she wrote about how they chose the name Honey. "I've always loved this verse. Its made me have a love for the idea of all that honey is. It's a sweet delicacy with a strong healing component."
"When Christian and I started dating we went through the book of Proverbs together and I remember getting to chapter 16 and as I read verse 24 i said to him, 'you have words like honey. they are so sweet and are healing places in my heart I didn't even know needed to be healed,'" she continued. "On our first date we went to do pottery together and on my cup i simply wrote 'honey' (swipe) because i called him the boy with the honey words. Fast forward 2 and a half years later and we have a daughter on the way who we so proudly get to name after one of the loveliest words. Not to mention this word reminds me of my great grandma who calls everyone she loves honey."
Sadie announced her pregnancy in October, and just last week, expressed that her due date has "come and gone." We're happy for her that baby Honey is now here!
Congratulations Sadie and Christian!!
In case you missed it, Sadie is turning one of her books into a TV show!
Like Just Jared Jr. on FB