Thu, 13 May 2021 at 5:07 pm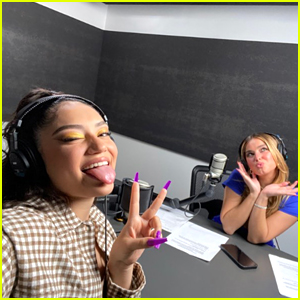 The first episode of the newly formatted second season of Addison Rae's podcast is out now!
On That Was Fun?, the 20-year-old kicked off the new episodes with her first special guest, Avani Gregg.
The two TikTok stars opened up about fame, fans wanting to know more about them and they both shared scary fan experiences.
Find out what they said inside…
"It was, like, actually very scary. Cause I was leaving the Hype House, you know, my tiny mini Cooper with my 'date Mike' license plate that I used to have," Avani shared. "And these guys… they looked… a lot older than me, followed me on the highway all the way back to my apartment complex… (and) parked, stood in front of the elevator until I got out of my car."
"And like I had nowhere else to go there. Wasn't another elevator. So like I sat in my car and they just did not leave," she continued. "So I just finally got out. They came up to me and like such big fans. And I was like, do you just like, that's like personal privacy. Like this is my house where I live."
Addison's was also similarly at home.
"I just heard something like a car door slam really loud and outside in front of my house. I'm like, 'Oh, what the heck?' Like, you don't really think much about it. Cause you're like, you know, you live around people obviously," she said. "And then all of a sudden, someone screams from the top of their lungs and they were like 'Addison!!' and it was like a man. And it was midnight. I ran upstairs as fast as I could. I was crying. I was shaking. I was like, 'Dad, I just heard someone scream my name.'"
Check out the episode below, which is also now available in video format!
Like Just Jared Jr. on FB