Fri, 14 May 2021 at 4:36 pm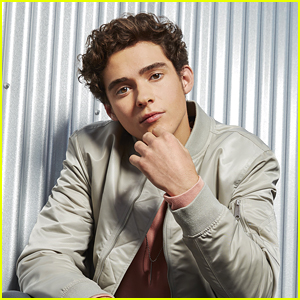 Fans are loving that High School Musical: The Musical: The Series season two is finally out, and we are too!
We're taking a look at the season premiere and Ricky (Joshua Bassett) has really stepped up his game this season.
In the first episode, Ricky is reeling off of the moments that he and Nini (Olivia Rodrigo) shared in the season one finale, and he is on cloud nine.
We are highlighting all of his swoonworthy moments that took place, which include him gushing over their relationship, serenading Nini and more.
In the beginning of the episode, after the "Something In The Air" performance, as they're leaving school, Ricky says, "See you later on today?"
Nini responds, "What's going on today?" To which he replies, "I mean, it's a day ending in the letter "Y," so I just kind of hoped we'd be hanging out?"
Then immediately following is a confessional, and Ricky excitedly says, "We're back, we're better than ever, and I'm never going to break up with Nini again. Ever! I love her! I finally said it, and I'm never gonna stop saying it."
Next, Nini and Ricky are hanging out, exchanging gifts at his house. Nini gives him a new skateboard deck, and because money is tight, Ricky writes her a super sweet song. No really, Joshua himself wrote the song!
Joshua Bassett – 'The Perfect Gift'
After the song, Nini says that it was incredible, and Ricky talks about how he can't wait to do the Spring musical and he's never walking off stage again.
"Because this, us… It's like the one thing, the one thing I can always count on. You're my home," he says. AWWW!
This next time isn't necessarily the most swoonworthy, but we can't NOT appreciate Joshua Bassett performing "Bet On It" from High School Musical 2. See what other HSM2 songs were in the episode!

Joshua Bassett – 'Bet On It'
The second to last moment, is when Ricky and Nini are singing together in the HSM2 medley at Ashlyn's New Year's Eve Party.
Finally, when Ricky says, "I'm in if you're in," right before Nini blurts out that she's moving. That line is another nod to the movies, if you didn't catch it!
Like Just Jared Jr. on FB