Fri, 14 May 2021 at 7:00 am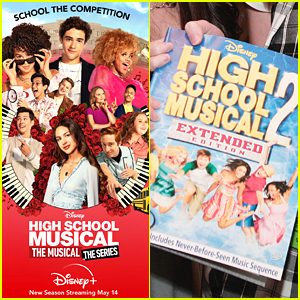 WARNING! This post contains spoilers from the season two premiere of HSMTMTS!
The cast of High School Musical: The Musical: The Series are continuing to sing more original High School Musical songs!
In season one, the young stars put on their own stage show of the first movie, and performed quite a few numbers from the DCOM.
Now with season two, and the characters in the show expecting to put on High School Musical 2 as their spring musical, they get ready for the show by singing songs from the movie.
Find out what songs they sing inside…
This isn't a spoiler, but they are NOT doing HSM2 as we already learned long ago that the spring musical will be Beauty and the Beast. However, the kids at East High don't learn this until the end of the episode.
The first song from the DCOM that is heard in the episode is "Bet On It," which is sung by Joshua Bassett's Ricky.
Ricky is super excited that they could be doing High School Musical 2 for the Spring musical, so he works hard for his audition and preps "Bet On It," originally sung by Zac Efron, and he performs it for Big Red (Larry Saperstein) in his basement where they hang out. He even does some of Zac's dance moves!
The next music from the movie we get to hear is actually a medley of songs sung at Ashlyn's New Year's Eve party.
The medley starts with Seb (Joe Serafini) at the piano singing the beginning of "Fabulous," then Carlos (Frankie A Rodriguez) jumps in and starts singing with him. Ashlyn (Julia Lester) then takes over the piano and starts singing and playing "You Are the Music In Me," and Gina (Sofia Wylie) joins her. Ricky comes in with his guitar as he and Nini (Olivia Rodrigo) take over the song and start singing to just each other, sharing a moment to the end of the song.
Their moment gets interrupted with a warning that it's almost midnight. Big Red then starts singing "All For One," and the rest of the cast joins in for a brief moment before the actual 10-second countdown has to begin!
Like Just Jared Jr. on FB