Mon, 17 May 2021 at 1:16 pm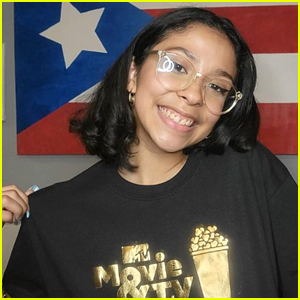 The cast of Julie and the Phantoms are 2021 MTV Movie & TV Awards winners!!
In case you missed it on Sunday night (May 16), the winners were revealed for the first part of the show and the stars of the Netflix series picked up the fan-voted Best Musical Performance award for "Edge of Great."
Star Madison Reyes took to Instagram that night to share her reaction and thank the fans for voting.
"Can't stop smiling and I don't think I will ☺️ thanks again everyone, I would have never thought we would be there today receiving an award for our show but you were the ones who made it possible love you all a bunch 😊❤️," she captioned one post.
"SURPRISE SHAWTYSSS @mtv @kennyortegablog @kabirakhtar @charles_gillespie @owenjoyner @jeremyshada @netflix @hillaryzturner I love you guys so much still can't believe we won that hard work really paid off ❤️ thanks so much my little fantoms sincerely madi 😚❤️," Madison wrote with another post.
"Wooooooo ❤️❤️," Owen Patrick Joyner commented on her video post.
Jeremy Shada shared the news on his account the next morning, and wrote, "Huge thank you to all of our awesome #Fantoms for making it happen and voting for us in the @mtv #bestmusicalmoment award!!! 😃😃😃 could not be more stoked. We Won a golden popcorn y'all! Here's some behind the scenes from "Edge Of Great"🤘🏼🤘🏼🤘🏼👻👻👻 ALSO big thanks to the amazing cast/crew that made it all possible. It takes such a large team of talented people and we had some of the best! Much love ❤️"
Executive Producer of the show Kenny Ortega also shared his excitement.
"Wow! What an honor! Thank you to all the #fantoms world wide who voted for us to win the 2021 MTV Movie & TV Award for @julieandthephantoms #edgeofgreat FANTOMS ROCK! We love, appreciate, and are beyond grateful to you all!!! A Big Shout Out to our partners @netflix @netflixfamily, song writers Nora Sullivan and Leilani Downer, our #jatp creative family, and MTV @themadisonreyes @charles_gillespie @owenjoyner @jeremyshada ❌👻🍿‼️"
Charlie Gillespie shared his reaction in a video thank you that aired during the ceremony, and you can watch that below!
For a complete list of winners from night one of the 2021 MTV Movie & TV Awards, CLICK HERE.
Like Just Jared Jr. on FB