Mon, 17 May 2021 at 5:41 pm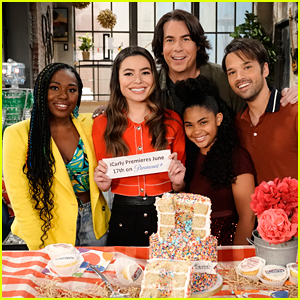 Paramount+ is issuing a statement in regards to racist comments towards one of it's actors.
Laci Mosley, who stars in the upcoming iCarly revival, has face a lot of comments online over the weekend, that are simply not okay.
"I shouldn't have been cursing in this response but I was really caught off guard by the onslaught of racist trolls. I deleted a lot of comments but they keep coming on every platform. Being a Black woman is exhausting. We all deserve better," she wrote in a quote response on Twitter.
Following the onslaught of comments, Paramount+ and Miranda Cosgrove have spoken out and shared posts condemning the racism.
"Our company is proud to uphold the values of inclusivity and collaboration, where we work to embrace new and diverse voices, act with care and work together," the network wrote. "The upcoming Paramount+ iCarly series is one of many examples of this commitment, and we support our entire cast and crew and stand against all instances of hate and racism."
Miranda reposted an Instagram story from the "icarlyonparamount" account, which wrote, "iCarly are proud to be racially diverse, not only in our crew but our cast. We have recently seen reports of racism towards a member of our iCarly cast, and it is not acceptable!"
"Please think about your words, and take time to understand how what you say can impact other people," they added.
One of the writers on iCarly, Franchesca Ramsey, also shared a series of tweets in response to the recent racist comments. See her tweets below.
If you missed the good news, iCarly will be premiering on Paramount+ in exactly one month!
Like Just Jared Jr. on FB