Fri, 21 May 2021 at 7:52 pm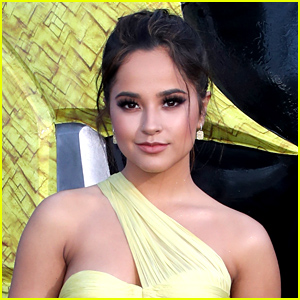 Becky G is reflecting on portraying a Power Ranger who was a part of the LGBTQ+ community.
The 24-year-old starred in the 2017 Power Rangers movie as the yellow ranger, Trini.
Becky just opened up about that character, and what it was like to play a character struggling with their sexuality.
"Knowing that my character mattered [was huge]," she told Us Weekly. "I wanted her to be a true reflection of someone who is discovering more about herself. On top of that, being [given] this responsibility of, like, saving the world and being a superhero, but making sure she was [still herself]. Trini was, like, a real girl — a real girl in high school, figuring out who she is and where she's going with her life."
"All I really had growing up was, like, Dora the Explorer. Shoutout to Dora — she's a real one — but we never had, like, a princess really to look up to or superhero to look up to," Becky added. "And so, to be a female Latina superhero representing somebody who was questioning her sexuality, I just feel so bada–, honestly. I was so honored to play that character."
Not only did Becky G's character have a pivotal moment in the film, but working on the movie was also pivotal in her real life. She met her now boyfriend of five years Sebastian Lletget through her Power Rangers co-star Naomi Scott!
Check out the latest photos of Becky and Sebastian here!
Pictured here: Becky G wearing a yellow dress while attending the Power Rangers premiere on March 22, 2017 in Los Angeles.
Like Just Jared Jr. on FB