Tue, 25 May 2021 at 1:53 pm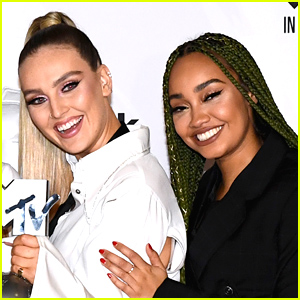 Perrie Edwards is dishing on being pregnant at the same time as her Little Mix band mate Leigh-Anne Pinnock!
In a new interview, the 27-year-old singer opened up about when she found out Leigh-Anne was also expecting.
"We were on a work Zoom and we were chatting about things that were coming up in the schedule because in Little Mix we are blocked out two years in advance," Perrie shared, via Cosmopolitan.
"I was thinking, 'I probably won't be able to do that, oh no I'm ruining everything!' and panicking… [so] I messaged my manager, Sam, like 'Sam, I need to talk to you ASAP,' and she just called me straight away and was like, 'You're pregnant,'" she continued. "I was like, 'How'd you know that?' She was like, 'Because I am too!' … and then she went, 'Please can I add someone to the call?'"
"I was like 'No, I'm really nervous, it's very early, I don't want to tell anybody,'" Perrie said. "She was like, 'Do you trust me?' I was like, 'Of course, with my life – go on then, add someone.' So she added someone to the call and then I just hear this voice come out and she goes, 'Perrie, You too?' And then we just cried our eyes out. We couldn't believe it!"
So cute!!
After we found out that they both were pregnant, fans noticed that while they stepped out to promote the "Confetti" remix, they all wore baggy clothing to hide the fact that the two were pregnant. But that wasn't the first time they were trying to hide it…
"We were in rehearsals at the time [for the 'Confetti' video]," Perrie shared. "Me and Leigh-Anne were pregnant and so out of breath, but we didn't want anybody to know, like choreographers and things. We didn't want anyone in the room to know so Jade was going, 'Oh, my back' and she was joining in! Leigh-Anne was going, 'My back hurts,' and Jade would go, 'Oh, my back, I know, my back is gone!'"
Jade joked, "Any excuse for me to sit out for five minutes! I was just like, 'Yeah, me too!'"
The ladies showed off their growing bumps at the BRIT Awards recently, where they made history. Check out the pics!
Like Just Jared Jr. on FB