Wed, 26 May 2021 at 4:39 pm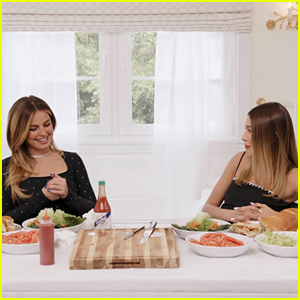 Addison Rae is opening up about love, relationships and her future!
The 20-year-old "Obsessed" singer is the latest guest on Hailey Bieber's "Who's In My Bathroom?" YouTube series.
During the episode, Hailey asked Addison where she sees herself in ten years. Addison also opened up about her ex Bryce Hall.
As for where she sees herself in 10 years, Addison said, "Hopefully starring in, you know, many more films to come, after He's All That is released."
Hailey then asked if she saw herself being married or if she doesn't care about that, and she replied, "No, I do love love. I'm a hopeless romantic, so I hopefully will be married, yeah. Hopefully I'll be married like next year."
Just before that, the girls talked about being in relationships in the public eye, and Addison opened up about what she learned from her relationship with Bryce.
"I never really made it a point to share, you know, details about anything," she said. "And I think it's kind of, part of it is like just me and, you know, Bryce for example, so many people's eyes were on us out of nowhere. It was hard to adjust to the thought of people being interested in that, or like seeing it and reacting to it more than usual, people being concerned about your relationship stuff."
"I think the lesson I learned from it is just keep your circle small, and keep your fights private, keep you know, intimate things private, and respect each other," Addison added.
If you missed it, earlier this month, social media went wild after Addison and her He's All That co-star Tanner Buchanan shared a kiss while presenting at the 2021 MTV Movie & TV Awards.
Like Just Jared Jr. on FB