Fri, 28 May 2021 at 7:59 pm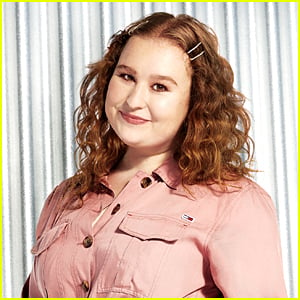 Julia Lester is opening up about her character Ashlyn and her leading lady insecurities.
The High School Musical: The Musical: The Series actress talked the importance of telling this story on the show in a new interview.
In the new episode, "Valentine's Day," Ashlyn expresses that she's doubting herself and her being cast as Belle in Beauty and the Beast because she doesn't feel like she looks the part.
"I know who I am. I'm proud of who I am," she says. "But I've seen the movie a hundred times. Belle has a certain look. It's iconic, and that look isn't really me. And sometimes that feels complicated."
"I think it's a really important story to tell and something that, a lot of people can relate to, something that I've related to in the past," Julia told Decider. "Just to be able to portray a story that someone can take something away from is really special. It's a really important arc for for Ashlyn, and it was just really cool to get the opportunity to dig deeper into into parts of Ashlyn that we haven't seen before."
Showrunner Tim Federle said that the decision to cast Ashlyn as Belle was made early on.
"I think Julia's really beautiful and really modern. Julia represents the best of today," he said. "One of the cool things about high school theater is that you sometimes play roles that are less on-the-nose casting than what Hollywood or even Broadway would do. I loved the opportunity to show Ashlyn step into the role of feeling beautiful and being beautiful as she's also managing what it's like to be a girlfriend for the first time. I think those stories are parallel."
"For Julia, it was really the conversation of, 'Do you understand what this story is? Because Ashlyn is probably in a place you were in a couple of years ago as a genuine high schooler.' And she was like, 'I got this. I know what this is.' So for her there was very little discussion. She just always knows how to play it," Tim added.
If you missed it, check out all of Julia's songs from season two, so far!
Like Just Jared Jr. on FB