Fri, 28 May 2021 at 8:48 pm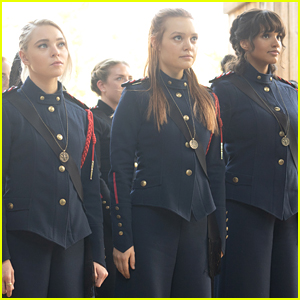 Motherland: Fort Salem is less than a month away and we are getting a little more info on the upcoming second season!
It was recently announced that the Freeform series has added five new actors to it's cast in recurring roles throughout the new episodes.
Victor Webster, Mellany Barros, Praneet Akilla, Ess Hödlmoser and Arlen Aguayo Stewart will all appear in season two, Deadline reveals.
In Motherland: Fort Salem season two, Raelle, Tally and Abigail confront higher stakes, dangerous magic and a new threat from an ancient group of witch hunters, The Camarilla. In the first season, we saw our trio of young witches follow in the footsteps of their foremothers, defending the nation from The Spree as part of the United States Army.
Their training is intensified when they are promoted to attend War College, where their magic, relationships and beliefs will be pushed to the limits. While General Alder seeks out new witches to join the wars to come, The Spree and the Army learn their fight may no longer be with one another. But how can two enemies work together to thwart a hatred that won't stop until all witches are exterminated?
Find out when the show returns right here!
Victor Webster will play Blanton Silver, "vice president of the United States. When his daughter is discovered to be a witch, Silver tries to adjust to her newfound identity."
Mellany Barros has been cast as Penelope Silber, " the only child of the vice president who accidentally discovers she is a witch. She is enthusiastic, passionate, yet overwhelmed while she navigates this shift from civilian to military life."
Praneet Akilla will portray Gregorio, "a male witch from the upper echelons of military witch society (like Abigail). He has huge opinions about how male witches are treated in a female dominant witch army, and makes them known."
Ess Hödlmoser is "M, a non-binary second-year soldier in War College, M is very protective of our Unit and any witch in their coven."
Arlen Aguayo Stewart will play "Nicte, someone from Alder's past who helped shape her into who she is now."
If you missed it, get all the latest news on your fave TV shows right here!
Like Just Jared Jr. on FB