Thu, 03 June 2021 at 6:24 pm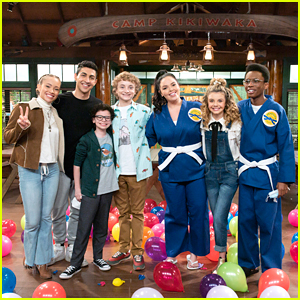 Bunk'd is airing it's milestone 100th episode TONIGHT (June 3) on Disney Channel!
The new episode comes during a week of new episodes premiering on the network.
Bunk'd, of course, stars Miranda May, Mallory James Mahoney, Raphael Alejandro, Will Buie Jr, Shelby Simmons, Israel Johnson and Trevor Tordjman.
In the 100th episode, "Gi Whiz," Finn and Destiny look for a way to leave their mark on the camp; while meeting Matteo's mother, Lou and Noah discover that he has a surprising skill.
If you missed it, check out the fun map of Camp Kikiwaka and a clip from the episode, that we exclusively premiered earlier this week.
To celebrate the milestone, Disney Channel gathered 10 fun facts about all of the adventure-filled summers at Camp Kikiwaka!
1. Number of campers who've been sprayed by a skunk: 16
2. Number of times the camp has burned down or suffered a natural disaster: Only twice!
3. Number of camper injuries? 7—and there is one in the 100th episode when a camper named Zachary does a belly flop—that's gotta sting!
4. Number of disastrous canoe rides the campers have taken: 5
5. Number of times a family member came to visit camp: 12
6. Number of times the camp won a competition or a trophy: 5
7. Number of times the campers went to Moose Rump: 20
8. Number of different animals that have been featured on Bunk'd: 22
9. Number of cabins at Camp Kikiwaka: 23 + Lou's cabin = 24
10. Number of times the kids went white water rafting in a bouncy house: 1!
Tune in to Bunk'd TONIGHT (June 3) at 8pm ET/PT on Disney Channel!
Like Just Jared Jr. on FB