Thu, 03 June 2021 at 4:25 pm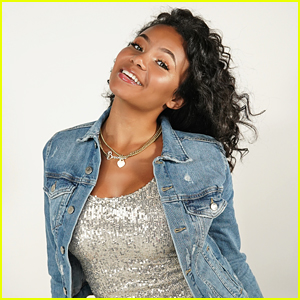 Brooklyn Queen is starring in the brand new Brat TV series Charmers!
The 15-year-old entertainer stars as Senna in the new show, which follows a coven of teen witches at a summer camp called Whispering Sky.
Brat TV just premiered the second episode, "Camp Olympics," where Zaria, Clover and Fi perform a maturity spell to give themselves super strength in time for the Summer Olympics. But when the spell goes haywire, they have to call on Senna to set things right. Check it out below!
In celebration of the new episode, we are getting to know more about Brooklyn Queen, who is also a rapper. She's even already released her debut album Queens Corner, which you can listen to on Apple Music right here.
Check out 10 Fun Facts about Brooklyn below, and keep scrolling to watch the new episode of Charmers!
1. Scary movies are one of my favorite things to watch; I love the intense build-up.
2. I can do a complete set of acrylic nails myself, I have been doing nails since I was nine years old.
3. I enjoy listening to country music with my dad.
4. I was five years old when I performed in my school talent show. It was my first time rapping for an audience.
5. My favorite thing to do is spend time with family and friends.
6. I love going to the thrift store to find hidden treasure fashion. To me, what you wear should be more about how you feel in it and less about the cost.
7. My favorite movie is How The Grinch Stole Christmas. I'll even watch it on Halloween, lol.
8. My favorite food is seafood I LOVE CRAB LEGS!! Especially when Mr BMB makes them.
9. My favorite artist is Beyoncé. I love how she can make you feel all emotions when listening to her variety of songs.
10. I love food and love to cook, no matter where I'm at, cooking makes me feel at home.
In case you missed it, check out our 10 Fun Facts with Brooklyn's co-star Sophie Fergi!
Like Just Jared Jr. on FB