Wed, 09 June 2021 at 6:19 pm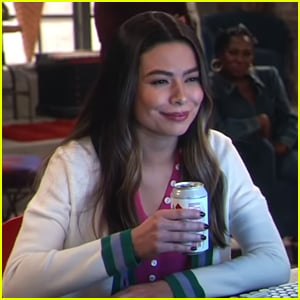 Miranda Cosgrove has fans going crazy on Wednesday (June 9)!
The new opening sequence for the upcoming iCarly reboot was just released, and it features a new iconic moment…
In the video, it shows Miranda recreating a meme of her from Drake & Josh. The meme is of her holding a soda, looking at her computer, and in the episode she says, "Interesting."
You will notice that the theme song actually sounds just like the original show's theme, "Leave It All To Me," and that's because it is! Miranda recently opened up about fighting to keep it exactly the same, though they did think about re-recording it.
"I fought so hard to keep the original theme song. We went around a bunch of times, thinking of maybe re-recording the same song now or doing a different song," she told Seventeen. "But, for me, when I watch revivals, I always am hoping for the original theme song and I feel like none of them ever really stick with the original. So we ended up going with the same one in the end."
The opening sequence of course introduces the cast – Miranda, Jerry Trainor, Nathan Kress, Laci Mosley and Jaidyn Triplett – at the start of each episode.
If you missed it, Miranda also recently shared that Jennette McCurdy's character Sam's absence will be addressed in the first episode and more.
Be sure to check out the trailer for iCarly and tune in to the premiere NEXT Thursday (June 17)!
Like Just Jared Jr. on FB