Mon, 14 June 2021 at 12:28 pm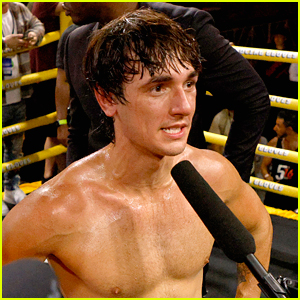 Bryce Hall is in good spirits despite losing his boxing match over the weekend to Austin McBroom.
The 21-year-old TikTok star shared a series of tweets on Sunday (June 13), the following day after the big matchup in Miami Gardens, Fla.
"im so proud of everyone on the card last night! you showed up and showed out and got in the ring in front of 30,000 people to do something you weren't fully comfortable with! takes big balls," he started off.
"i loved the experience regardless of the outcome, i can't express anything but happiness that we pulled off an event like that in just 3 months! good job everyone," Bryce continued.
Bryce previously said in an interview that he was going to use some of the money he earns from the fight to buy his mom a house. If you missed it, Bryce said he's making over $5 million from the event.
"hey ma! im still buying you that house by the way ❤️," he shared on Twitter Sunday night.
Just after the fight, Bryce took to social media to congratulate Austin on his win.
"great fight @austinmcbroom you impressed many along with myself with your skill set! im going back to my youtube / tiktok sh-t and im looking forward to takin a few shots with you tonight 🍺," he wrote on Instagram.
"congrats @AustinMcbroom we put on a show, let's take some shots," he added on Twitter.
Out of all of the YouTubers vs Tiktokers fights that night, Vinnie Hacker was the only TikToker to take home a win after defeating Deji.
Like Just Jared Jr. on FB