Fri, 18 June 2021 at 1:34 pm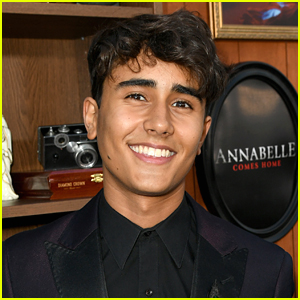 Michael Cimino has opened up about the negative feedback from his portrayal of Victor Salazar on Love, Victor.
The 21-year-old actor spoke out about receiving death threats for being someone who identifies as straight playing a gay character.
"I've definitely had some criticism from the LGBT community for being in the role… I've had death threats, which is horrible. But the show is important to me. The messages of hate— I came into it knowing that would happen, regardless of how good I was," Michael told Attitude magazine.
"But there are some straight actors who play gay characters, who are all about supporting LGBT rights while they're promoting their project, but once they're done, a year later, it's kind of forgotten," he added. "That's not how [to] be an ally, that's not how you support LGBT rights. If you're not an actual ally, then what are you doing?"
Michael also shared the unexpected people he received some criticism from.
"I got some homophobic comments — I kind of expected that to happen. I didn't expect it from my own family members, though," he said. "Some of them reached out, saying, 'You used to be so cool; now you're so gay,'. I chalk it up to ignorance. People have that programming and they often don't have to evolve and try to push past that."
His co-star and love interest George Sear, who is also straight playing gay, said, "Overwhelmingly, it's been really positive… I love playing this character and I've tried to do my best to honour the responsibility of it."
If you missed it, Michael just dropped his debut single "Love Addict"!
Like Just Jared Jr. on FB