Mon, 21 June 2021 at 9:01 pm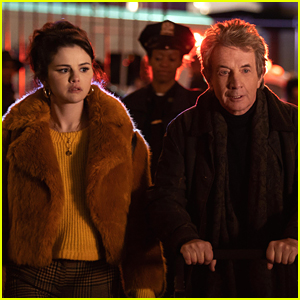 Selena Gomez is opening up about her upcoming Hulu series Only Murders In The Building!
The 28-year-old actress and producer stars in the new show alongside Martin Short and Steve Martin.
In a new interview with Vogue Australia, Selena dished on the series, and even revealed the nickname that Martin has given her.
"First off, they're brilliant. They're legends, and they have lived so many different lives, and it's like I'm a sponge and I'm just soaking all of that in," she shared. "They were just like uncles. Marty calls me Bubbala, like: 'How's my little Bubbala?' They're so quick and witty and established."
"I want to be where they are. I love when people challenge me, and they would tell me things I would never know. I think you're going to see on screen how much we did love each other," she said.
Selena also shared what she loves about being a producer. If you didn't know, she's also an executive producer on Only Murders, alongside Steve and Martin.
"I get to have a say. I get to see what works and doesn't work, and that's exciting for me. Because I don't know what's going to happen when I grow up. I would maybe love to write something, I'd maybe love to direct something. Producing has been like dipping my toe in the water," she said.
"When I'm acting – I don't want to say this because there are multiple things I feel with all my projects – but acting to me is just my favorite. It's really, really wonderful, and I'm very happy when I'm on set," she added.
If you missed it, Steve recently gushed about working with Selena.
Don't forget to check out the teaser trailer for Only Murders In The Building, which will premiere on August 31st
Like Just Jared Jr. on FB