Tue, 22 June 2021 at 1:33 pm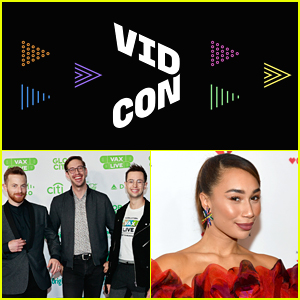 The 2021 VidCon event is getting a little bit closer, and the convention just announced another round of creators that will be in attendance!
This year's event returns to in-person at the Anaheim Convention Center in Anaheim, Calif., from October 21 – 24th.
"VidCon is the must-attend event for the creator economy and we can't wait to reunite our passionate community of industry executives, creators, and fans in Anaheim this year. This is just a small sample of how VidCon will inspire and inform attendees through insightful discussions, hands-on workshops, and more," General Manager Jim Louderback said in a statement. "We are also excited to offer virtual attendance options for those unable to join in person, so the entire global community can connect and participate in the annual IRL convention."
Among the just announced featured creators include Eva Gutowski, Ned Fulmer, Zach Kornfeld and Keith Habersberger of The Try Guys, Lexi Rivera, Sophie Fergi, The Montes Twins, Alyson Stoner and many more. Check out the complete list below!
If you missed it, find out the first round of creators that were announced earlier this year.
In addition to the featured creators, who will take part in panels, meet and greets, and more, there will also be top executives from Facebook, Instagram, Pinterest, Community, TikTok, and Chipotle for keynotes, Fireside Chats, panels, workshops, and Q&As with speakers.
Tickets for 2021 VidCon are on sale now. Head to VidCon.com to purchase yours today!
Check out the full list of creators below that have been recently announced as attending 2021 VidCon…
Abby Roberts
Yoatzi Castro
LeahAhe
Jason Rodelo
Cosette Rinab
Sophie Fergi
The Montes Twins
Mr. Hamilton
BENOFTHEWEEK
Imani Barbarin
CG5
Lil XXel
Eva Gutowski
Ned Fulmer, Zach Kornfeld and Keith Habersberger of The Try Guys
KREW
Aphmau
Matthew and Stephanie Patrick
Shalom Blac
BingingwithBabish
Alyson Stoner
Lexi Rivera
MILES
Luke Korns
The Sorry Girls
SomeThingElseYT
TimTom
Penny Tovar
William Osman
VidCon co-founder John Green
Laura Prepon
Andre Swilley
Sarah Lugor
Devon Rodriguez
Alex Warren
Kallmekris
Jasminexgonzalez
Benji Krol
Michael Le
Blesiv
Ben De Almeida
Eitan Bernath
Enoch True
Makayladid
YUNG ASTROO
CelinaSpookyBoo
Julian Bass

Initial programming will feature keynotes, Fireside Chats, panels, workshops, and Q&As with speakers such as:
Aya Kanai, Head of Content & Creator Partnerships, Pinterest
Adam Arrigo, CEO and Co-Founder, Wave
Tressie Lieberman, VP, Digital and Off-Premise, Chipotle
Matt Peltier, Founder & CEO, Community
Connie Chan, General Partner, Andreessen Horowitz
Paresh Rajwat, VP of Entertainment Products, Facebook
Ben Relles, Head of Innovation, YouTube Originals
Todd Sherman, Product Lead, YouTube Shorts
Michael Wasserman, CEO, Tiltify
Oana Ruxandra, EVP, Business Development & Chief Digital Officer, Warner Music Group
Ray Cao, Managing Director, Global Product Strategy & Operations, TikTok
Jess Richards, EVP, Head of Commerce, Havas Media Group
Like Just Jared Jr. on FB