Fri, 02 July 2021 at 3:00 pm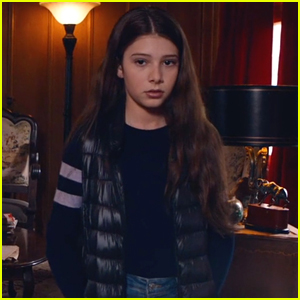 Makenzie Moss is starring the brand new sci-fi thriller Let Us In!
JJJ spoke with the 14-year-old The Unicorn actress about her new movie, including what it was like working with her dad, the director Craig Moss, again.
Click inside to see what she told us…
Based on the urban legend "The Black Eyed Kids," Let Us In follows a spirited twelve-year-old girl and her best friend look to uncover the sudden disappearances of several missing teens in their small town. Realizing there might be something deeper happening, Emily and Christopher might be up against forces they can't even imagine. Check out the trailer here!
Siena Agudong, Sadie Stanley, Kenzie Ziegler, O'Neill Monahan and Tobin Bell also star.
Makenzie not only stars as Emily, but she's also a co-producer on the film, where she got to help make some big decisions!
Let Us In was written by JW Callero and Craig Moss, who also directed, and is available on demand and digital TODAY (July 2).
Check out our interview with Makenzie Moss below…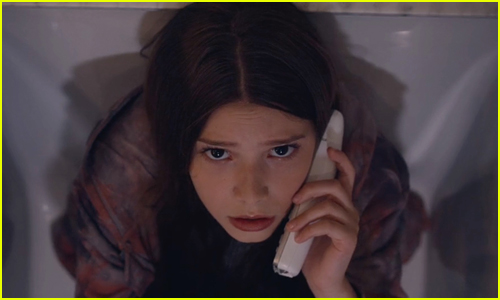 Just Jared Jr: Are there any similarities between you and your character?
Makenzie Moss: I loved playing Emily so much… she was such a headstrong, independent person who stuck to her morals and what she believed in, and didn't let anyone get the best of her. I think I'm similar with the fact that I'm pretty strong minded and I have my set of values that I believe in, and don't let others sway me in different directions.
JJJ: Emily and Christopher try to talk to aliens. Do you believe in aliens or any kind of extra terrestrial life?
MM: I do. I think anything is possible. I mean we all somehow were magically created and outer space goes on forever, so I think within that forever, there's gotta be life forms somewhere, right? I just don't know how I'd react if a few of them came knocking on my door.
JJJ: How was the behind the camera experience being a co-producer? And at a young age?
MM: It was so much fun! As an actor all you know is the auditioning process from the actor's perspective, but having a role behind the camera I was able to be a big part of the casting process. Being able to see what it was like from that perspective was so amazing as it gave me so much more of an appreciation of how filmmakers put their cast together. I was also able to consult on the screenplay as there was a lot of teen dialogue that needed some fine tuning. Overall having this opportunity to be a co-producer at such a young age made me realize that this is something that I want to do in addition to acting.
JJJ: How do you hope this film, having a lead female character who's really into science, will impact other young girls?
MM: I was very excited to do this movie because I haven't seen a film in awhile where there's a twelve year old female hero who gets to kick butt and save the day. And then on top of it, a hero who's tough but is really into science. Science is cool and for whatever reason it's gotten a bad rap over time so I'm excited for other girls to watch this film who either have a passion for it, or are just discovering it to know that it's a cool thing. Great things come from science, so if I'm able to inspire one more person to jump into that than that would be amazing.
JJJ: What do you hope viewers take away from the movie?
MM: Stay true to who you are and hold on to your core values, regardless of what other people think of you.
JJJ: This was the second time you've worked with the director, aka your dad. How was this experience different from the last time you did a movie with him when you were younger?
MM: I love working with my dad. He put my sister and me in a couple of his films when I was like four years old and then that's when I knew I loved acting. After doing a bunch of films on my own, my dad cast me in a film called The Charnel House when I was eight and we shot it in Cleveland, and my whole family, including my dog Pickles, came out to be with us and it was a lot of fun. But I really enjoyed working with my dad and was hoping that we'd be able to do it again. So when we worked on Let Us In I was older, so the communication was at a different level which I loved, and I hope that we could work together on something else.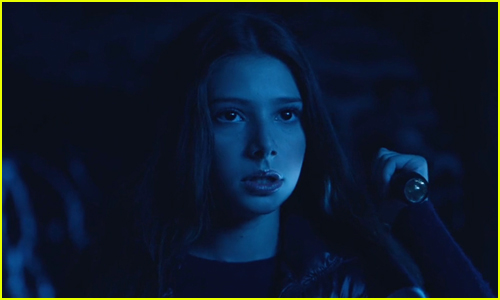 JJJ: This is a different genre than most of your last projects… What drew you to this movie?
MM: I loved the fact that I could play a character who was so strong and didn't take crap from anyone. And then add in the fact that I got to kick butt, ride a scooter and hang out with a great cast and crew? We had a lot of fun.
JJJ: Is thriller something you want to do more of?
MM: Yes, for sure… I enjoy all genres though, I think it just comes down to the story and the character I'm playing. I've been very lucky that I've had the opportunity to jump around to different genres, each one different with interesting stories and characters to play.
JJJ: Can you tell us about moments when you've been scared in real life?
MM: Yes! Many times, even in the dumbest moments like playing hide and go seek with my sister and dad. I'd literally get scared just walking around the house alone looking for them and finally I'd just scream, "I give up! Just come out, PLEASE!" and they would, and the game would be over. It was pretty ridiculous. I'd like to think that if we played today I'd be a little braver.
Let Us In is out on demand and on digital NOW!
Like Just Jared Jr. on FB