Mon, 05 July 2021 at 6:56 pm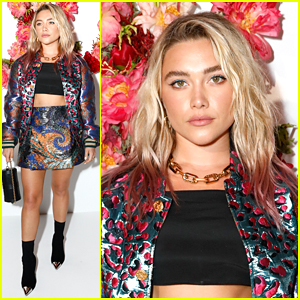 Florence Pugh steps out for her second event of the day at the Louis Vuitton Parfum Dinner held at Fondation Louis Vuitton on Monday evening (July 5) in Paris.
The 25-year-old Black Widow star showed a bit of her midriff in cropped top under her jacket.
Earlier in the day, Florence joined Cara Delevingne and Suki Waterhouse in the front row at the Christian Dior Haute Couture fashion show.
See more inside…
Florence's Marvel film Black Widow will finally be released in theaters and on Disney+ Premier Access THIS Friday (July 9).
To celebrate, she's been sharing some BTS content on Instagram, and in her latest post, she talked about how she spent a lot of her free time with the stunt crew.
"Not long now. We are only days away from the release of Black Widow. I've been scrolling through my albums, smiling at all the people who worked unbelievably hard for months on end for this movie," she wrote. "I spent most of my spare time with the stunts department. When I got the job I wanted to be as prepared as possible. To be invited to join a superhero movie is a big deal and I was excited to get stuck in. So, I was in the Pinewood stunts warehouse with these talented athletes everyday just watching and learning as much as I could in the time that we had. They really are incredible. They are the coolest and most hard working people on any set, 1st Unit, 2nd Unit, stunts Unit. They stay after you leave and train with you on days off."
"Here we have my awesome stunt double @kella.mcallister on the left, who trained me on and off set. She walked me through any and all choreography daily until I had it perfected and in lockstep with her," Florence continued. "Then we have @cali_nelle on the right, he was my main guy for tweaking and improving movement and knife work. Making it look as smooth and as real as possible… because.. you know.. i didn't know how to knife fight before. You may have seen in the trailer a segment where I run down a building (haha lol) and land looking cool. The day we flew out to Morocco we went straight to the location and the stunts and wires team were already there and set up, they rehearsed with me for hours until I felt safe and confident as we were shooting this scene the following day."
"I have so many more wonderful pictures of the stunts team on this film, it was such a kind and cool family to have on set. Shout out to them and how hard they work on every production. Go check out there work when #blackwidow comes out, you'll be amazed I promise. More to come. No spoilers I promise. X," she said.
Like Just Jared Jr. on FB