Wed, 14 July 2021 at 1:51 pm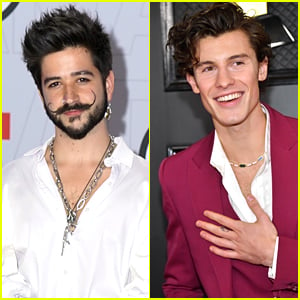 Shawn Mendes has teamed up with Camilo for a new remix of the song "Kesi"!
The 22-year-old "Wonder" musician is singing in Spanish for the first time on a song with the 27-year-old Colombian singer.
Learn more and listen inside…
"#KesiRemix with @camilo is out now!!!! hope you guys love it as much as we do ☀️☀️☀️ LATRIBU ❤️," Shawn shared on Instagram.
"KESI REMIX salió!! Y está disponible en todas las plataformas! ☀️ Te amo hermano @shawnmendes !! It really means the world that u decided to sing in spanish for the first time on a song with me!" Camilo added on his account. "I love ur fandom, and I know we're all gonna be one TRIBU from now on! ⛺️🔥 VAYAN A ESCUCHAR ☀️"
Camilo also opened up about how he never thought of doing a remix of the song until Shawn had mentioned it to him.
"I never thought about doing a remix until Shawn Mendes, one of my favorite artists, mentioned it to me. Being a big fan of his music, the pure idea of hearing him singing in Spanish is something that made me so excited," he said in a statement. "The fact that he decided to sing in our language for the first time in his career on a song with me is one of the greatest honors I've had in my career as an artist. It is a song like no other, full of life, smiles, energy and contagious happiness, and our friendship being so honest and close gives spirit to this collaboration."
Shawn added, "My favorite part of working with Camilo is just being around him, his energy is infectious and beautiful. When we met there was an immediate click, and I feel like it makes it so much easier to work with somebody once it feels like you're friends with them. You get so much more excited about the release."
Check out the "Kesi" remix below…
Like Just Jared Jr. on FB