Wed, 14 July 2021 at 7:56 pm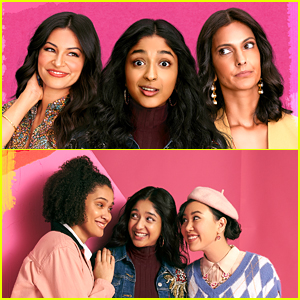 The ladies of Never Have I Ever are choosing sides!
In a new roundtable interview, Maitreyi Ramakrishnan, Ramona Young, Lee Rodriguez, Poorna Jagannathan and Richa Moorjani were asked whose team they would be on, and which guy they are rooting for for Devi – Ben (Jaren Lewison) or Paxton (Darren Barnet).
Click inside to find out who they picked…
Maitreyi actually chose a third option – Team Devi!
"I'm gonna set the tone right now, right here… Team Devi. Self-love," she said, via Entertainment Weekly. "I'm gonna keep riding this train 'til the end. Team Devi. That's it, that's all I gotta say."
Lee (Fabiola) shared next: "I am always Team Devi, but if I have to choose, if this is what the people want to know – If I really am Team Paxton or Team Ben. No hard feelings… Ben. Fabiola isn't Team Ben at all, but Lee Rodriguez says Team Ben."
"I would probably want to plead the fifth on this one, but I'm gonna go with Lee and say Ben too," Richa (Kamala) chimed in.
"I am team geometry book, for sure," Poorna, who plays Devi's mom, says. LOL! "Like, that's it. Even in life, I'm like don't even worry about these two. There's a fourth, fifth option down the line, which is going very soon. Don't even worry about it. Focus on your studies."
"And be team– like, I love when Devi's team dad, you know? It might be the most beautiful moments," she added. Aww!
Last but not least, Ramona (Eleanor) shares her thoughts. "Okay, no pressure. I'm just gonna totally trust my intuition on this. Well, first of all, duh, team Devi. But if I had to choose Team Ben or Team Paxton, I would say Team Paxton. You live once, okay?"
Co-creator Lang Fisher also shared that the writers room for the Netflix comedy is split on which guy she should end up with, and dished that they haven't picked one yet!
Never Have I Ever returns to Netflix for season two TOMORROW (July 15)!
Like Just Jared Jr. on FB